Oil retailers to submit affidavit to SC on clean fuel schedule
Shweta Bhanot: Mumbai, Feb 19 2010, 23:59 IST
Indian Oil Corporation (IOC), on behalf of oil retailing companies, will submit an affidavit with the Supreme Court on February 25, outlining the modalities and schedule for availability of cleaner fuel required for the Bharat Stage (BS)–IV and BS–III vehicle emission norms, according to sources.
The filing of the affidavit is part of the process that the oil companies have to follow before the country takes a leap into new vehicle emission norms.
On April 1 this year, 13 cities, where BS–III vehicle emission norms are currently being followed, are scheduled to upgrade to BS–IV emission norms (equivalent to Euro-IV), while other parts of the country will move to BS–III emission norms.
Incidentally, there is no clear picture on the modalities of the new norms yet, when there is less than two months to go for the same. "There has been no official communication from the ministry, but we expect the decision soon," Pawan Goenka, president, Society of Indian Automobile Manufacturers (SIAM), said.
On the contrary, the petroleum ministry looks firm on sticking to the deadline for the BS–IV, while BS–III, they say, will be implemented gradually.
"We are sticking to the deadline. From April 1, the 13 cities will move up to BS–IV and others will move up to BS–III gradually," S Sundareshan, secretary, ministry of petroleum and & natural gas, told FE, adding that there would be a notification and a time table circulated on the availability of the BS–III fuel.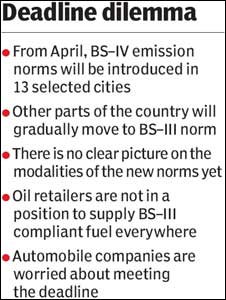 According to sources, there
Euro-IV
Deepak Hota | 19-Feb-2010
Reply | Forward
The vehicle manufacturers are talking of a price increase to the tune of 2.5% on account of this shift .What about the Oil Marketing companies who would have invested huge amounts to produce the upgraded euro IV fuel? Double whammy for them as they are already losing.