In the past twelve years, the equity markets as measured by Sensex have fallen and risen six times each on the budget day. A study of the stock market on Budget day between 2000 and 2011 shows that the Sensex reacted sharply 80% of the times with the average returns on the budget day being a negative 1.1%.
Historical data suggests that market reacts more sharply to negative cues than otherwise. On an average ,the budget day fall has averaged nearly 3.7% in the past decade while gains averaged 1.5%. On four occasions, the budget proposals pulled down the Sensex upwards of 200 points and in 2007 and 2009, the Sensex dropped 540.74 points and 869.65 points respectively.
While on four times occasions, Sensex moved 120-178 points, on one occasion the Sensex moved in a narrow range registering a single-digit gain.
Morarji Desai has presented a record number of ten Budgets. P Chidambaram, home minister, presented a number of Budgets (between 2004 and 2008), followed by Yashwant Sinha (in 2000, 2001 and 2002 ) and Pranab Mukherjee (thrice in 2009, 2010 and 2011) and Jaswant Singh on February 28, 2003.
The third highest Sensex fall on a Budget day took place on February 29, 2000, when the Sensex dipped by over 294 points at close. The Budget had proposed the imposition of a tax on exports, a hike in corporate and mutual fund dividend tax rates to 20% and a higher surcharge on non-corporate assessees. In 2001, however, the Sensex shot up 177 points on Budget day. The Budget turned out to be a bonanza for investors with FII limit being raised to 49%, the administered interest rates being lowered. In 2004-05, when the United Progressive Alliance presented its Budget on July 8, the Sensex lost 112 points on account of the proposal to levy the securities transaction tax.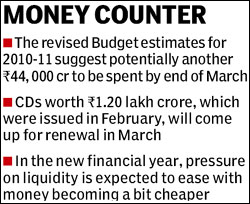 After 2006 budget, the Sensex showed decline on the three consecutive budget days that is 2007, 2008 and 2009. In 2007 budget day, the sensex lost 540.74 points.On that day realty companies were battered five per cent after a proposal to levy service tax on residential/commercial property rentals.
When UPA came to power in May 2009 and presented its first budget on July 6, 2009.Market was very disappointed and bulk of the damage was done on the budget day itself. The Sensex lost 869.65 points (highest decline among budget days) on that day.
In 2010, however, the Sensex shot up 175.35 points on Budget day. On February 28, the Sensex gained 122.49 points triggered by the lower fiscal deficit target set by the government. On that day, the shares of infrastructure companies also ended higher as the FM announced plans to launch infra bonds worth R30,000 crore to boost the infrastructure sector.