The price of crude oil has become an important factor affecting the profitability of Indian business houses, especially in recent quarters. Indian companies' energy costs increased significantly in the October-December quarter of 2010 versus a decline during the same quarter in the previous year.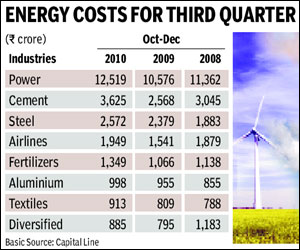 An FE study reveals that the aggregate expenditure of 502 companies on energy, which had dipped 5.2% in the three months to December 2009 over the same period in the previous year, rose 19% to Rs 27,659 crore in October-December 2010, from Rs 23,242 crore.
On the other hand, the ratio of power and fuel costs to total expenditure fell from 25.19% in the third quarter of 2008-09 to 24.88% in the current fiscal. This could be a function of the rise in total expenditure, which increased by 20.5% in October-December 2010 against a marginal increase of 0.1% in 2009 over the previous year. As a result, net profit growth slowed sharply from 121.7% in October-December 2009 to 1.81% in the same quarter of 2010.
While 290 companies in the sample managed to trim their energy cost to total cost ratio, it was higher for 210 firms. Two companies posted unchanged ratios.
Those posting a significant fall in the ratio included Dalmia Bharat Enterprises, Gujarat Fluorochemicals, Nava Bharat Ventures, Reliance Infrastructure, and DCW. An opposite trend was seen in the case of SPIC, Birla Corporation, JK Cements, Kingfisher Airlines and Hindustan Copper.
Those reducing their overall energy costs included Lloyd Steel Industries, Shah Alloys, Jai Balaji Industries, Finolex Industries, RSWM, Clariant Chemicals, Ispat Industries and India Cements.
Those with higher spends on energy included SPIC, Andhra Sugar, JK Cements, SpiceJet, Graphite India and Tata Chemicals.
The top ten in terms of energy cost in October-December 2010 were NTPC, Jet Airways, Tata Power, Reliance Infrastructure, UltraTech Cement, SAIL, Torrent Power, JSW Energy, Hindalco Industries and Kingfisher Airlines.
Among industries, auto ancillaries, cement, fertiliser, and airline companies posted significantly higher energy costs, while it was markedly lower for the petrochemicals, pharmaceuticals and sugar sectors.