Doing business in India seems to have become more difficult in the past one year as India slipped to the 134th spot in a global ranking of 189 countries by the World Bank. In 2013, India was at 134 position on the list.
The ranking, which is based on 10 indicators, revealed that India's performance had dropped on all but two parameters. Over the last one year, starting a business, protecting investors, getting credit, construction permits and electricity, filing for bankruptcy, paying taxes as well as registering a property have become tougher in the country.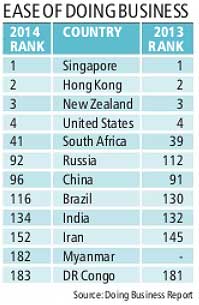 Significantly, on another parameter of enforcing contracts, India's position remained unchanged at 186 and continued to be amongst the worst performers globally.
"It is not just a question of one year. The decline in the business environment has been gradual over the years. This is reflected in the poor private investment scenario and the shrinking pipeline of projects," said DK Joshi, chief economist, Crisil.
At the state level, while Ludhiana was considered the best Indian city to do business in, Kolkata was at the bottom of the 17 cities ranked. Surprisingly, India's financial capital Mumbai was at the 10th spot much below New Delhi that came sixth.
Reflecting investor concerns over delays in project approvals, land acquisition and frequent policy changes, Doing Business 2014: Understanding Regulations for Small and Medium-Size Enterprises has ranked India below neighbours such as China (96), Nepal (105), Pakistan (110) and and Bangladesh (130). India is also ranked lowest among the BRICS nations (Brazil, Russia, India, China and South Africa).
Singapore was the top country, in terms of ease of doing business, followed by Hong Kong, New Zealand, US and Denmark in top-five, making them best places to do business. Others in the top-ten are Malaysia (6), Korea (7), Georgia (8), Norway (9) and United Kingdom (10).
The report noted that compared to the 2.5 days it takes to start a business in Singapore, it took 27 days in India. Enforcing contracts took 12 days in the city state, while in India it takes as many as 1,420