Australian Prime Minister Tony Abbott said on Monday the hunt for Malaysia Airlines Flight MH370 had no time limit, despite the failure of an international operation to find any sign of the plane in three weeks of fruitless searching.
A total of 20 aircraft and ships were again scouring a massive area in the Indian Ocean some 2,000 km (1,200 miles) west of Perth, where investigators believe the Boeing 777 carrying 239 people came down.
Also check: Malaysia Airlines MH370 plane latest photos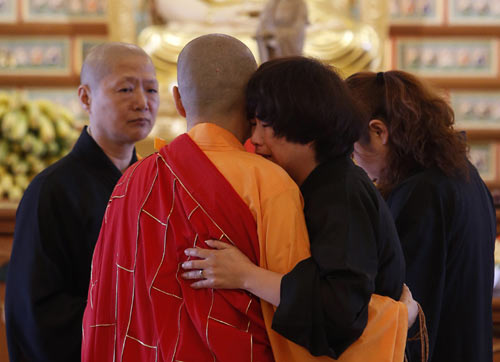 A Chinese relative of passengers onboard the missing Malaysia Airlines Flight MH370 is comforted by abbess Jue Cheng after prayers for their loved ones at Fo Guang Shan Buddhist temple.(Reuters)
"I'm certainly not putting a time limit on it," Abbott told reporters after meeting flight crews at Pearce airbase in Perth.
"The intensity of our search and the magnitude of our operations is increasing, not decreasing," he said, adding that searchers owed it to grieving families of passengers to continue the hunt.
Some families have strongly criticised Malaysia's handling of the search and investigation, including the decision last week to say that, based on satellite evidence, the plane had crashed in the southern Indian Ocean on March 8.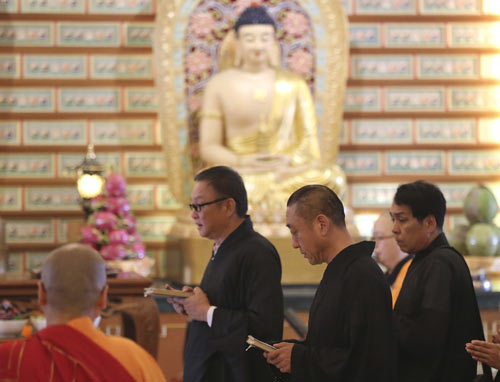 Chinese relatives of passengers on board the missing Malaysia Airlines flight MH370 say prayers at a Buddhist temple in Petaling Jaya, Malaysia, Monday March 31, 2014. Relatives from China are in the country to seek answers of what happened to their loved one on board flight MH370.(AP)
Abbott rejected suggestions his Malaysian counterpart, Najib Razak, had been too hasty to break that news, given that no confirmed wreckage from the plane has been found and its last sighting on radar was northwest of Malaysia heading towards India.
"No, the accumulation of evidence is that the aircraft has been lost and it has been lost somewhere in the south of the Indian Ocean," he said.
Najib will travel to the western Australian city of Perth, the base for the search, on Wednesday to see the operations first hand, Malaysia's government said.
Malaysia says the plane, which disappeared less than an hour into a flight from Kuala Lumpur to Beijing, was likely diverted deliberately far off course. Investigators have determined no apparent motive or other red flags among the 227 passengers or the 12 crew.
China has also been critical in Malaysia's handling of the case, but in a sign of softening, the official China Daily said it was understandable that not all sensitive information could be made public.
"Although the Malaysian government's handling of the crisis has been quite clumsy, we need to understand that this is perhaps the most bizarre incident in Asia civil aviation history," the editorial on Monday read.
"Public opinion should not blame the Malaysian authorities for deliberately covering up information in the absence of hard evidence."
MORE FLOTSAM
Dozens of items have been spotted since Australian authorities moved the search 1,100 km (685 miles) north after new analysis of radar and satellite data, but none has been linked to Flight MH370.
Several orange items recovered on Sunday turned out to be fishing equipment, a spokesman from the Australian Maritime Safety Authority (AMSA) said.
"Yesterday's finds were nothing of note, nothing related to the plane," he said.
A multinational air search team and 10 ships, including seven Chinese vessels, two Australian navy craft and a merchant ship, were searching the area on Monday.
A Malaysian frigate arrived at HMAS Stirling naval base near Perth for briefings on the search area, AMSA added.
The new search area, while closer to Perth and subject to calmer weather, is also closer to an area of the Indian Ocean where currents drag all manner of flotsam and rubbish.
"I would say the search area is located just outside of what we call the garbage patches," Erik van Sebille, an oceanographer at the University of New South Wales said.
"However, there is much more debris there than in the Southern Ocean. Debris from Western Australia that ends up in the garbage patches will have to move through the search area."
But the greatest problem remains the vast search area, roughly the size of Poland or New Mexico.
"If you compare this to Air France Flight 447, we had much better positional information of where that aircraft went into the water," U.S. Navy Captain Mark Matthews said on Sunday , referring to a plane that crashed in 2009 near Brazil and which took more than two years to find.
Among the vessels due to join the search in the coming days is an Australian defence force ship, the Ocean Shield, that has been fitted with a sophisticated U.S. black box locator and an underwater drone.
That equipment cannot be used until "conclusive visual evidence" of debris is found, U.S. Navy spokesman Commander William Marks told CBS's "Face the Nation" programme.
If no location is found, searchers would have to use sonar to methodically map the bottom of the ocean, he said. "That is an incredibly long process to go through. It is possible, but it could take quite a while," he said.
Time is running out because the signal transmitted by the black box will die about 30 days after a crash due to limited battery life, leaving investigators with a vastly more difficult task.
Malaysia's acting transport minister, Hishammuddin Hussein, said he would discuss the deployment of "more specific military assets" during a regional defence ministers' meeting with the United States in Hawaii that he is attending from Tuesday.
"I shall be discussing with the United States, and our other friends and allies, how best we can acquire the assets needed for possible deep sea search and recovery," said Hishammuddin, who is also Malaysia's defence minister.
Malaysia Airlines MH370 'most promising lead' turns out to be trash
A cluster of orange objects spotted by a search plane was just fishing equipment and not related to the missing Malaysia Airlines jet, officials said Monday, in the latest disappointment in the three-week hunt that Australia's prime minister said will continue indefinitely.
The crew of an Australian P-3 Orion saw at least four orange objects that were more than 2 meters (6 feet) in size on Sunday, and the pilot, Flight Lt. Russell Adams, dubbed the sighting their most promising lead in the search for Flight 370. But on Monday, Australian Maritime Safety Authority spokesman Jesse Platts said an analysis confirmed the objects ''have nothing to do with the missing flight.''
It's a frustrating pattern in the hunt for the Boeing 777, which vanished while flying from Kuala Lumpur to Beijing on March 8 with 239 people aboard: Search crews have repeatedly spotted multiple objects floating in the search area of the southern Indian Ocean, only for officials to later rule out link to the missing plane.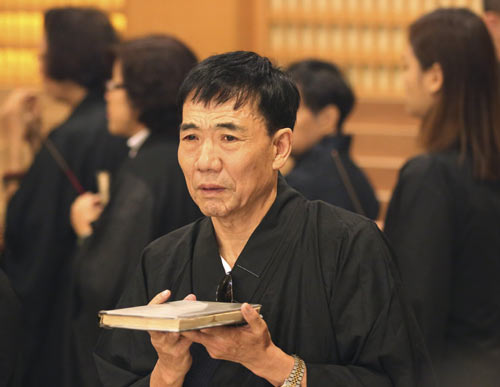 A Chinese relative of passengers on board the missing Malaysia Airlines flight MH370 carries a book as he attends prayers at a Buddhist temple in Petaling Jaya, Malaysia. Relatives from China are in the country to seek answers of what happened to their loved one on board flight MH370.(AP)
Australian Prime Minister Tony Abbott on Monday acknowledged the search was incredibly complex, but said officials were ''well, well short'' of any point where they would scale back the hunt.
Malaysian Prime Minister Najib Razak plans to travel to Perth on Wednesday to see the search operations firsthand.
The search has evolved as experts sifted through the limited radar and satellite data, moving from the seas off Vietnam, to waters west of Malaysia and Indonesia, and then to several areas west of Australia.
''This is an extraordinarily difficult exercise .... We are searching a vast area of ocean and we are working on quite limited information,'' Abbott said, adding that the best brains in the world and all the technological mastery is being applied to the task.
''If this mystery is solvable, we will solve it,'' he said.
He said the search is operating on guestimates ''until we locate some actual wreckage from the aircraft and then do the regression analysis that might tell us where the aircraft went into the ocean.''
Ten planes and 11 ships were in or headed to the search zone about 1,850 kilometers (1,150 miles) west of Australia on Monday, but AMSA said late Monday that nothing of significance was found. The flying time to the 254,000 square kilometer (98,000 square mile) search zone is about 2 1/2 hours, allowing a five-hour search before planes must return to Perth.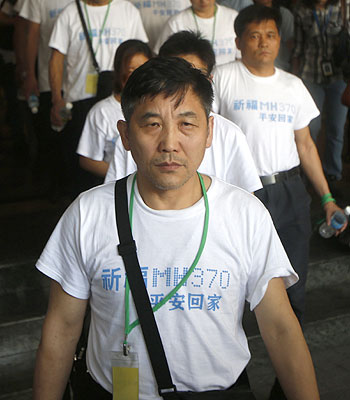 Chinese relatives of passengers onboard the missing Malaysia Airlines Flight MH370 leave their hotel in Subang for prayers at a Buddhist temple. (Reuters)
Former Australian defense chief Angus Houston on Monday began his job of heading the new Joint Agency Coordination Center, which will oversee communication with international agencies involved in the search. The Perth-based center will position Australia to shoulder more of Malaysia's coordination responsibilities as the search drags on.
Houston will also play a prime coordination role when victims' families travel to Australia in the weeks ahead.
Abbott said he was not putting a time limit on the search. ''We owe it to everyone to do whatever we reasonably can and we can keep searching for quite some time to come ... and, as I said, the intensity of our search and the magnitude of operations is increasing, not decreasing.''
The Ocean Shield, an Australian warship which is carrying a U.S. device that detects ''pings'' from the flight recorders, was expected to leave Perth on Monday evening for the search zone, a trip that will take three to four days. AMSA, which is coordinating the search, said it would first conduct sea trials on Monday afternoon to test the search equipment on board.
The search area remains vast, so investigators are hoping to first find debris floating on the ocean surface that will help them calculate where the plane crashed into the water.
Meanwhile, several dozen Chinese relatives of Flight 370 passengers visited a Buddhist temple near Kuala Lumpur on Monday to pray for their loved ones. They offered incense, bowed their heads in a moment of silence, knelt several times during the prayers and lowered their heads in kowtows. Buddhist nuns handed out prayer beads to them. ''You are not alone,'' one nun said. ''You have the whole world's love, including Malaysia's.''
Several of the relatives were overcome with emotion, tears streaming down their faces.
The family members later made a brief statement to journalists, expressing their appreciation to the Chinese government and the people of Malaysia and the volunteers who have been assisting them. They bowed in gratitude but said they were still demanding answers.
''To those who are guilty of harming our loved ones, hiding the truth, and delaying the search and rescue, we will also definitely not forgive them,'' said a family representative, Jiang Hui.
The comments were seen as a small conciliatory move after relatives staged an angry protest in front of reporters on Sunday at a hotel near Kuala Lumpur. At the time, they chanted slogans, raised banners and called on the Malaysian government to apologize for what they dubbed missteps in the handling of the disaster.
Aircraft and ships involved in Malaysia jet search
The countries involved and their contributions to Monday's search for the missing Malaysia Airlines plane in seas west of Perth, Australia:
AUSTRALIA
One P-3 Orion plane; three navy ships.
MALAYSIA
Two C-130 Hercules planes.
CHINA
One Il-76 plane; eight ships.
JAPAN
One P-3 Orion; a coast guard jet.
NEW ZEALAND
One military P-3 Orion; one civilian plane.
UNITED STATES:
One P-8 Poseidon plane.
SOUTH KOREA:
One P-3 Orion.