The Reserve Bank of India (RBI) in its policy review unexpectedly raised its policy interest rate on Tuesday by 25 basis points but said that if consumer price inflation eases as projected it does not foresee further near-term tightening - Governor Raghuram Rajan leaves cash reserve ratio (CRR) unchanged at 4 pct (read highlights below).
Having raised repo rate, RBI Governor Raghuram Rajan said slowdown in economy getting 'increasingly worrisome'.
Raghuram G Rajan at RBI meet: Read full report
RBI policy review: Read full report
RBI Policy Review: Economic growth in India likely to slip below 5 pct
Graphics: RBI Q3 Monetary Policy Review
The RBI policy review decision was driven by an expectation that consumer price index (CPI) inflation will remain high, an indication that Raghuram Rajan is looking to adopt a recent proposal to base its policy rate decisions on a CPI target.
The RBI raised its policy repo rate by 25 basis points to 8.00 percent.
Most economists in a poll conducted last week had expected no change in rates. However, expectations for a rate hike had increased after a central bank panel proposed to make CPI the main inflation benchmark.
Indian bonds, stocks and the rupee fell after the rate hike but soon recovered most losses on the back of the dovish statement. The benchmark 10-year bond yield which rose as much as 9 basis points following the hike, retreated entirely to continue trading down 5 bps on the day at 8.72 percent.
"For now, this should mark the peak of the rate hike cycle, with the central bank's growth projections close to our conservative estimates at 4.8 percent for FY14 and 5.3 percent for FY15," said Radhika Rao, economist at DBS Bank in Singapore.
The CPI eased to a three-month low of 9.87 percent in December but remains well above the central bank's policy repo rate of 7.75 percent, and the RBI said on Tuesday that consumer inflation risks remain to the upside.
Last week, a central bank panel proposed revamping its monetary policy structure by setting a CPI inflation target of 4 percent, plus or minus 2 percent, over the long term, with a goal of trimming CPI to 8 percent by January 2015 and 6 percent by January 2016.
"An increase in the policy rate ... will set the economy securely on the recommended disinflationary path," the RBI said in a brief policy statement.
"If the disinflationary process evolves according to this baseline projection, further policy tightening in the near term is not anticipated at this juncture," it said.
The wholesale price index, long the RBI's main price barometer, slowed to 6.16 percent in December.
"It seems like RBI has implicitly accepted the (panel) recommendations implying continued focus on CPI going ahead," said Upasna Bhardwaj, economist at ING Vysya Bank, referring to the central bank panel on revamping monetary policy.
Rajan faces the daunting challenge of reviving an economy growing at a decade low of around 5 percent while battling persistently rising prices, much of which has been fuelled by supply-side shortages beyond the control of monetary policy.
The RBI said CPI inflation is likely to stay above 9 percent during the final quarter of the fiscal year that ends in March, ranging between 7.5 percent and 8.5 percent for the quarter that ends in March 2015, "with the balance of risks tilted on the upside."
It also said Indian economic growth is likely to fall short of its earlier projection of 5 percent this fiscal year, improving to 5-6 percent in the year that starts in April.
CRISIL: Repo rate at 8% to lower CPI inflation to 8%
In an unanticipated move, the Reserve Bank of India (RBI) in its third-quarter review of the monetary policy hiked the repo rate to 8.0%. The RBI indicated that the move was necessary to bring down CPI inflation to 8% by January 2015, as recommended recently by the Urjit Patel Committee. RBIs emphasis on bringing down CPI inflation further to 6% over the next 24 months, suggests limited downside to interest rates in the coming months.
With this policy, the RBI has clearly shifted its focus towards achieving a stated inflation goal over the next couple of years. The future course of monetary policy will now be determined by the forecasts of CPI inflation, the new nominal anchor. We expect CPI inflation to average 8.5% during 2014-15.
COMMENTARY
KSR Anjaneyulu, MD & CEO, Lakshmi Vilas Bank:
Notwithstanding the fact that Agriculture production during this year expected to be very robust, there is no alternative for RBI except to raise Repo rate to contain inflation caused by CPI Index particularly because of Service sector and Industrial sectors impact on inflation.
Though GDP growth is expected to be sub 5% level this year, Governor has taken decision to hike Repo rate to maintain Price Stability and to contain depreciation of Rupee which are the primary objectives of RBI. At the same time by not increasing CRR, RBI has also taken care of ensuring the availability of adequate liquidity to support the growth in the economy. Governors speech has given an indication that inflation is expected to be under control and there will not be any consequent further hike in Repo rate in near future. As a matter of policy MSF also be increased to 9% to maintain gap of 100 bps between Repo and MSF rates. Overall, it is a balanced approach being adopted by RBI.
Kunal Shah, Fund Manager - Debt, Kotak Mahindra Old Mutual Life Insurance Limited
RBI has hiked policy rates by 25bps as per the expectations, the stance has moved by a margin from growth concerns to worries on high core inflation. The move comes at the time when bond markets were stuck with volatile macro variables and new framework proposed by deputy Governor. RBI has indicated that at current level of repo rate they are comfortable to guide the system that as per their forecast of inflation for next 12months monetary stance will remain unchanged, RBI also indicated that if inflation drops below their expected path they may even ease in future. For bond markets this will be positive news as uncertainty on extent of hikes will be removed and if inflation does indeed fall sharply expectations on rate cuts will emerge. We expect CPI & WPI inflation would drop significantly due to fall in food inflation, however sharp fall beyond range expected by RBI cant be predicted with certainty and hence we expect bond yields will not be in a hurry to drift in either direction. On external front, risk off sentiments have emerged again and rupee has deprecated accordingly however since fundamentals of economy have improved on relative basis rupee should not react sharply as seen in Q2, we expect RBI may not take any tightening measures to protect the currency.
A. PRASANNA, ECONOMIST, ICICI SECURITIES PRIMARY DEALERSHIP, MUMBAI:
"I think it's reasonable to say in the next policy they will stay on hold, but beyond that a rate hike cannot be ruled out. What is more important is that he (RBI Governor Raghuram Rajan) has more or less accepted the (Urjit Patel) panel's recommendations.
As he (Rajan) said, when inflation is high, there is no trade off. When inflation is above 6 percent, anyway it is inimical to growth."
UPASNA BHARDWAJ, ECONOMIST, ING VYSYA BANK, MUMBAI:
"Even as the current rate hike is a surprise, the RBI has indicated that if inflation were to remain in line with their projections, there will not be any more need for rate hikes. We expect the RBI to pause through the year. Additionally, it seems like the RBI has implicitly accepted the Urjit Patel panel recommendations implying continued focus on CPI going ahead."
RADHIKA RAO, ECONOMIST, DBS, SINGAPORE:
"Odds of a rate hike had risen after the hawkish RBI panel report and that has come to fruition. While the pullback in December inflation was acknowledged, the upward pressure in service sectors and wage-led pressures were highlighted as the key drivers behind today's hike.
"Notably, the post-policy commentary touched upon the trends in both WPI and CPI, steering clear of signalling which index will be given higher weightage in policy decisions. For now, this should mark the peak of the rate hike cycle, with the central bank's growth projections close to our conservative estimates at 4.8 percent for FY14 and 5.3 percent for FY15."
NITESH RANJAN, ECONOMIST, UNION BANK OF INDIA, MUMBAI:
"With this policy, the essence of the Patel Committee report has found its place in the RBI's objectives. Price stability as primary objective and headline CPI as the nominal anchor are here to stay. We were expecting this hike, though consensus was for a status quo. On April 1 (the next policy date), we may not see change in policy rate, but some more actions in line with the committee report may be expected."
DARIUSZ KOWALCZYK, SENIOR ECONOMIST AND STRATEGIST, CREDIT AGRICOLE CIB, HONG KONG:
"This (the rate hike) is very surprising given that inflation fell sharply of late. The central bank continues to confound markets after withholding from an expected hike at the previous meeting despite having talked tough about inflation.
"The repeated wrong-footing of markets is likely to hit Indian assets today, and we expect declines of the INR, G-Sec bond prices and equities. Stocks and the currency will suffer also from the negative impact of the decision on growth."
MARKET REACTION
The benchmark 10-year bond yield rises 8 basis points to 8.79 percent after the central bank raises the repo rate.
The partially convertible rupee trims gains to be at 63.10 per dollar, from 62.99 before the repo rate hike.
The benchmark BSE share index falls 0.6 percent the repo rate hike; had been up 0.2 percent before.
BACKGROUND
- The wholesale price index (WPI), India's main inflation indicator, climbed an annual 6.16 percent in December, its slowest pace since July 2013, compared with 7.52 percent in November, data showed this month.
- Production at factories, mines and utilities shrunk for the second straight month in November, by 2.1 percent, data showed earlier this month, dragged down by a contraction in consumer goods output.
- Reserve Bank of India governor Raghuram Rajan last week called inflation a "destructive disease" that was forcing the bank to keep interest rates high.
- The RBI should make managing inflation its main policy objective and set monetary policy by committee, a central bank panel recommended last week, a shift that would bring its practices in line with many other central banks.
HIGHLIGHTS
* Key lending rates hiked by 0.25 per cent to 8 pc
* Cash reserve ratio kept unchanged at 4 pc
* Marginal Standing Facility (MSF) rate stands at 9 pc
* GDP growth to be less than 5 pc in current fiscal
* Growth to improve to 5.5 pc in 2014-15
* Current Account Deficit to be below 2.5 pc this fiscal
* March-end inflation could exceed 8 pc
* Rate hike will set economy securely on disinflationary path
* Growth likely to lose momentum in Q3 of 2013-14.
* Slowdown in economy getting increasingly worrisome
* Inflation is a tax that is grossly inequitable, falling hardest on the very poor
* Fiscal and monetary authorities should continue to work for macroeconomic stabilisation
* Henceforth, policy review to take place every two months. Next review on April 1.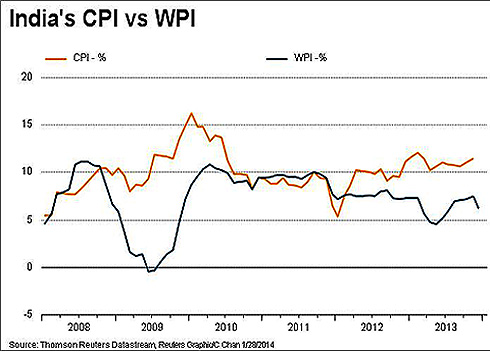 RBI raises policy rate by 0.25 pc to anchor retail inflation
(PTI) Reserve Bank of India (RBI) Governor Raghuram Rajan today again surprised the markets and raised the key policy rate by 0.25 per cent to 8 per cent in a bid to curb inflation, a move that may translate into higher EMIs and push up the cost of borrowing for corporates.
"...an increase in the policy (repo) rate by 25 basis points is needed to set the economy securely on the recommended disinflationary path," Rajan said while unveiling the Third Quarter Review of Monetary Policy.
Consequently, the reverse repo rate under the liquidity adjustment facility will be revised to 7 per cent and the marginal standing facility rate and bank rate to 9 per cent.
However, the RBI kept the cash reserve ratio unchanged at 4 per cent as liquidity seems to be comfortable.
It was widely expected that Rajan would maintain the status quo on rates to support growth. Ahead of the quarterly review, Rajan had termed inflation a "destructive disease."
The Governor said economic growth would be below 5 per cent in the current financial year and could accelerate in 2014-15 to a mean projection of 5.5 per cent.
In line with the Urjit Patel committee recommendations, monetary policy reviews will henceforth be undertaken every two months, consistent with the availability of key macroeconomic and financial data, Rajan said.
The RBI's baseline projections for retail inflation indicate that over the ensuing 12-month horizon, and with the current policy stance, there are upside risks to the central forecast of 8 per cent.
"The extent and direction of further policy steps will be data dependent, though if the disinflationary process evolves according to this baseline projection, further policy tightening in the near term is not anticipated at this juncture," he said.
The repo rate hike is likely to have a bearing on interest rates and may push up the cost of funds for retail as well as corporate borrowers.
Following policy announcement, the stock markets fell sharply but quickly recovered and were trading almost flat at 11.30 am.
While core inflation data was steady in December, Rajan said prices are hardening in the services sector and in key intermediates.
This, seen in conjunction with rising bank credit, increase in order books, pick-up in capacity utilisation and the decline in inventories of raw materials and finished goods in relation to sales, indicates that aggregate demand pressures are still imparting an upside to overall inflation.
"It is critical to address these risks to the inflation outlook resolutely in order to stabilise and anchor inflation expectations, even while recognising the economy is weak and substantial fiscal tightening is likely in Q4," he said in the monetary policy document.
While retail inflation measured by the consumer price index (CPI) declined significantly on account of the expected disinflation in vegetable and fruit prices, it remains elevated at close to double digits.
Inflation, excluding food and fuel, has also been high, especially in respect of services, indicative of wage pressures and other second round effects, he said.
In terms of the wholesale price index (WPI), headline inflation eased to a four-month low with the sharp decline in vegetable and fruit prices. Non-food manufactured products inflation, however, rose in December on higher prices of chemicals, non-metallic minerals and paper products.
A silver lining is the significant narrowing of the trade deficit on the back of resilient export growth, he said, adding that the current account deficit for 2013-14 is expected to be below 2.5 per cent of GDP compared with 4.8 per cent in 2012-13.
On the external front, Rajan said the slowdown facing the Chinese economy is a clear potential risk that could lead to a financial market contagion.
The recent resumption of capital inflows should help finance the current account deficit comfortably, Rajan added.
Reserves have been rebuilt since September and are expected to increase as oil marketing companies repay the Reserve Bank when their swaps come due, he said.
"Nevertheless, given the uncertain external environment, the government and the RBI cannot pause in their efforts to ensure fiscal and monetary stability," he said.
The Governor disappointed bankers by not heeding their call to reduce the cash reserve requirement, which was left unchanged at 4 per cent.
Commenting on the policy announcement, Prime Minister's Economic Advisory Council Chairman C Rangarajan said this is a reflection of the strong commitment of the Reserve Bank to price stability, the chief objective of the monetary policy.
"I think the decision also reflects certain change in terms of the indicators that they are monitoring. While wholesale inflation remains near the comfort zone, the CPI is not and therefore the decision to increase the interest rate is once again a reflection of the shift in terms of the focus from wholesale price inflation to retail inflation," Rangarajan said.
Asked if the RBI's action would translate into a hike in interest rates, State Bank of India Managing Director A Krishna Kumar said, "We need to discuss this further in detail. As of now, it (deposit rate hike) looks unlikely. We need to look at the overall data."