Giving advice on what stocks to buy and what stocks to sell is pretty dicey, but when its a sure shot that may not be such a bad idealike Reliances stock will do better if the government raises the gas price RIL gets. Telecom is one such sure shot, and heres the advice: till the government changes its policy, youre going to make a loss each extra day you hold on to telecom stocks. Apart from the dismal economic conditions, the messed up government policy is the main reason why there are such few takers for next weeks auctions that look certain to be a washout given the number of players participating is really low.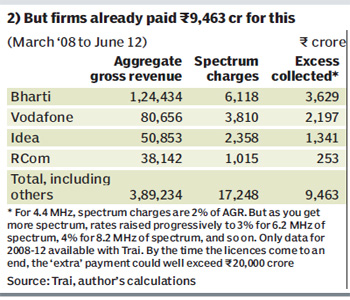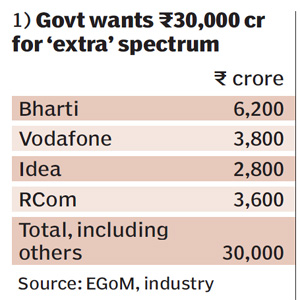 A good place to begin is the Rs 30,000 crorea third of this from PSUs BSNL and MTNLthat the EGoM wants telcos to pay for the extra spectrum they have (table 1). While telcos argue they got the extra spectrum as a result of bona fide government policy, this is missing the pointafter all, Uninor can claim it got its licences out of government policy that everyone in the government argued (some still do!) was bona fide till the Supreme Court ruled otherwise. The question is whether the government got compensated for, say, giving spectrum worth R5,000 crore for an upfront payment of just R1,651 crore.
Turns out, the government did get compensated. Heres why: when telcos were given this extra spectrum without being charged an upfront auction-type fee, the government raised the spectrum usage charge (SUC) which telcos pay apart from the 6-8% annual licence fee. The SUC was 2% of adjusted gross revenues (AGR) when telcos began their operations with 4.4 MHz of spectrum, rose to 3% of AGR when telcos had up to 6.2 MHz of spectrum, 4% for 8 MHz of spectrum, and so on. Sadly, Trai provides data for SUC payments only from 2008 onwards while firms started getting extra spectrum 7-8 years earlier, but even data since 2008 shows telcos paid R17,248 of spectrum till June 2012. Considering that the SUC should have been just 2%, this means telcos have already paid up R9,463 crore extra (table 2) for this extra spectrumconsidering telco licences still have some years to expire, this number could conceivably go up to around R20,000 crore.
Which brings us to the larger point of the auctions and government greed. If the government wants large money upfront, let it take this; but it cannot have large upfront money and also have large annual surcharges. To put this in perspective, take the example of a firm that buys 5 MHz at todays reserve pricesthis will cost it R14,000 crore. Typically, this telco should be earning R15,000 crore of annual revenues, which means it will pay R1,450 crore of licence/spectrum fees. But to pay R14,000 crore of upfront charges, the telco will be incurring finance charges of a similar nature. In other words, telcos are being asked to double their payments which, based on todays ebitda margins, means a 40-50% cut in these margins.
How this leaves industry no money to finance themselves can best be seen from some real-life industry numbers. Gross revenues for industry were about R1,60,000 crore in FY12 and roughly R49,000 crore of this was given out to telcos by way of inter-connection usage charges, leaving an AGR of R1,10,000 crore. Subtract the licence fee/spectrum charges (also from Trai data), then around 20% for sales and marketing and another 5% for staff costs. You then need to subtract the costs of operating the networktelcos can either own their networks or hire it out. For ease of calculations, assume the network is leased. The industry has around 4.5 lakh towers and each gets a rental of around R62,000 per month, giving you opex costs of around R33,500 crore. All of which leaves you with an ebitda of R22,600 crore, or around 14.3% (table 3).
Now lets move to the auctions, where the government has put a base price of R14,000 crore per 5 MHz of spectrum. Trai has recommended multiples of this for other bandsa multiple of 2, for instance, is suggested for 900 MHz spectrum. Based on industrys current spectrum holdings, this is worth R2,10,000 crore. Given this involves a financing cost (and were not even talking amortisation yet) of R21,000 crore, were left with under R2,000 crore of our ebitda. Bring in the R1,80,000 crore of current industry debt taken to fund capex, and were seriously out of the money.
Hopefully, once the results of next weeks auctions seep in, the government will figure this out and revert to a more sensible telecom policy. Otherwise, with telcos starved for cash, the big broadband rush we are looking forward to will never happen. Nor will the big productivity hike that is contingent upon this.
sunil.jain@expressindia.com