The decline in the Niftys put call ratio (PCR) from a six-month high of 1.55, it touched on Wednesday, to 1.27 on Friday has made the option writers less bullish.
According to derivative analysts, the decline in PCR hints at the bearish undertone of the market given that the Niftys rebound from 4,800 levels since August 26 was not supported by an underlying buying activity. Derivatives traders now see 4,800 mark as the crucial support for Nifty. And a fall below this threshold could take the index well below 4,700 as indicated by the increase in the open interest of the September series Nifty options.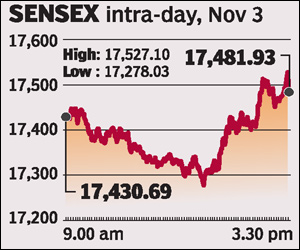 According to Siddarth Bhamre, head equity derivatives at Angel Broking, a rise in PCR in a bearish market is generally attributed to speculators buying puts.
He added that since the start of the September series, while the Nifty traded in a range of 4,910-5,170, the higher implied volatility added to overall put writing.
The put call ratio is a ratio of the trading volume of put options to call options and usually it indicates the investor sentiment. Generally, a rising PCR (above1) is a sign of underlying bullish sentiment amongst traders while a declining PCR (below 1) is perceived to be reflecting rising pessimism amongst traders.
Some traders also take a contrarion view of the market using the PCR ratio. They depict a higher PCR with higher put writing, which in turn reflects too much of bearishness, and traders take it as an indicator of a market bottom. However, such strategy are effective when market trends are reversing.
The Niftys PCR started to rise after reaching a two-month low of 0.88 on August 26 when the index closed below the 4800 mark for the first time since February 2010.
According to Savio Shetty, derivatives analyst at Prabhudas Liladher, during the sharp recovery from 4,750 ( August 26 low) to 5,000, which took place within two trading sessions, the PCR moved from 1.27 to 1.34. However, as the Nifty extended its gains past 5,000 mark, the PCR caught up with the index and started moving towards its six-month high.
As on Friday, open interest for September options indicated that the traders were pricing in a fall towards 4,600-mark for the September series if the Nifty gives away the support of 4800. While the strike of 4,800 maintained the highest open interest on the put side, the 4,600 puts added the maximum open interest of 17.6 lakhs for the day.