With easy liquidity and low interest rates, corporate India was slow on raising fresh loans during 2009-10. But in 2008-09, despite tight liquidity and high interest rates, India Inc relied on debt funding. A study of 699 companies for 2009-10 reveals that the industry has significantly reduced its leverage this year by raising fresh equity for repaying debt.
For 699 major companies (excluding banks and NBFCs), the growth of loan funds decreased from 39.6% during 2008-09 to 2.4% during 2009-10.
But the total debt of the above number of companies under the study increased from Rs 2.32 lakh crore in 2007-08 to Rs 3.25 lakh crore in 2008-09 and further increased to Rs 3.33 lakh crore in 2009-10. The net worth of the above number of companies steadily increased from Rs 4.41 lakh crore in 2007-08 to Rs 6.49 lakh crore in 2009-10 after reaching a level of Rs 5.35 lakh crore in 2008-09. The debt-to-equity ratio of the above number of companies increased from 0.53 in 2007-08 to 0.61 in 2008-09 and decreased to 0.51 in 2009-10.
The downward trend in debt-to-equity ratio reflects India Incs reluctance for borrowings and reliance on internal accruals for growth. The strong profitability of Indian companies, which has ensured a rapid expansion in their net worth, has also helped gearing ratios. Moreover, the reluctance of the companies to take on debt indicates that most of the capex tends to get funded out of internal cash flows. This also means lesser funds for investors as companies reinvest profits to fund for further growth.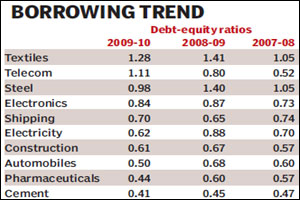 Four out of ten companies resorted to an increase in their borrowings. Additionally, companies in IT, electric equipment, electronics, engineering, tea, food products, shipping and telecom raised more debt during 2009-10.
Contrary to perception, the group of companies with a net worth of more than Rs 1,000 crore saw their debt rise by 1.8% during 2009-10 while those below this registered a 4.2% growth over the previous year.
In the group of net worth more than Rs 1,000, a significant increase in debt was seen in the GMR Infrastructure case. The company ended up with total borrowings of Rs 2,575 crore by March 2010, which is higher by about 512.7% over the borrowings at the end of 2008-09. The companys debt-to-equity ratio rose from 0.07 to 0.44 during 2009-10.
The debt-to-equity ratio, or D/E ratio, normally helps us assess the extent to which the company is using borrowed money. It is simply obtained by dividing the total debt (total loan funds) of the company by its share holders equity (net worth).
The D/E ratio is an important tool of financial analysis to appraise the financial structure of the company. It indicates the relative claims of the creditors and shareholders against the capital employed of the company.
Among the 699 companies, 302 companies saw a fall in the D/E ratio, while 288 witnessed a rise in the first two years under consideration. The remaining 109 companies ratios were same for both the years.
In 2009-10, two companies namely XL Telecom and Delta Intl had significantly high ratios. Companies which had a very low D/E ratio in 2009-10 were HCL Technologies and Torrent Cables.
A significant increase in the D/E ratio was noticed in the case of GMR Industries, Mawana Sugars, Borosil Glass and Walchand Industries. At GMR Industries, the debt at the end of March 2010 was in the region of Rs 534 crore, up by about Rs 99 crore over 2008-09.
Corporates, which saw a sharp decrease in the D/E ratio, were Pasupati Acrylon, Sakthi Sugar and Piramal Glass.
Companies such as Bharat Bijlee, Birla Corp, GTL, Gati, GMR Infrastructure, HCL Technologies, Hind Zinc, KCP, Mphasis and TRF saw their debt more than double in fiscal year 2009-10 when compared with the earlier period.
In terms of debt, the top five companies during 2009-10 are Reliance Inds, Tata Steel, JSW Steel, Videocon Inds and JSL. Among these, highest increase in debt during 2009-10 from the level of 2008-09 was witnessed in the case of JSL followed by Videocon Inds.
Higher borrowings did result in a deterioration of the debt-to-equity position of these companies with two out of ten companies seeing the ratio climb beyond 1:1 in the study period.
Companies such as Hind Motors, Shree Ram Urban, TRF and GR Cables are some instances where the debt-to-equity ratio has almost doubled compared with the previous fiscal year.