If the aviation sector was once a favourite with job seekers, who could demand salaries at will, the recession changed all that. Job cuts were massive and the anguish of laid-off staff was on full display in the media. Cash-starved domestic carriers accounted for nearly 11% of the total estimated global aviation industry loss of $11 billion in FY09.
The FY09 losses increased by nearly 45% or approximately Rs 8,500 crore ($1.4 billion) from FY08. This was due to a combination of factors, including soaring prices and high taxes on aviation fuel, unviable pricing in the face of intense competition and lower traffic due to the economic slowdown, says Kapil Arora, partneradvisory services, Ernst & Young.
The worst job cuts came from Jet Airways, which eliminated at least 7% of its staff strength. The company spokesperson claimed the cost of running the business had gone up by 30% and what the company did was necessary to stay viable. This was the third time the carrier trimmed its workforce. In 2007, it had cut staff by 1,200 after it took over Air Sahara and in August 2009, JetLite offered a voluntary separation scheme to over 700 employees.

The lay-offs also impacted the various institutes churning out trained staff for the industry. Says Samir Valia, Vice-President, Corporate Communication, Frankfinn Institute of Airhostess Training, India, We saw a 15% to 20% drop in admissions. There were two reasons for this decline in numbersthe economic turmoil and the perception that there is a slowdown and opportunities are less. This was our main challenge. The media kept on showing footage of protesting employees and bad publicity always travels fast. We had to fight this perception.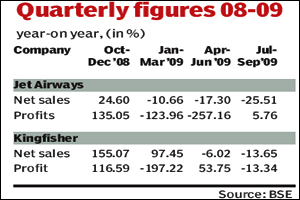 In 2008-09, Frankfinn had 12,000 to 15,000 students enrolled in its various centres. This number dropped to around 10,000 in April-December 2009. The company expects this number to go up to 11,000 by the end of March 2010. The strike by staff of state-run carrier Air India followed soon after the Jet job cuts. Pilots called for a strike after the loss-making airline announced plans to cut pay incentives by about 50%. The strike ended only after the government promised to make no changes in salaries without bringing it to the employees notice.
The whole situation worsened with rising aviation turbine fuel prices, forcing airlines to raise prices. This was enough for majority of the air passengers to opt for the cheaper railways. As a result, both leisure and business travel dropped.
These issues are far from resolved even though the slowdown is officially over. Continued volatility in global ATF prices, combined with disparity in sales tax imposed by several state governments, is a major factor for losses in the sector.
Analysts predict that the next year will be as challenging. Securing additional financing will not be easy for carriers. Government support through policy changes in FDI, uniform sales tax rates and removal of restrictions to fly on international routes are some demands of carriers. While softer fuel prices and declared goods status for ATF may help carriers get closer to breaking even, they will need to maintain rational pricing, high load factors, route rationalisation and focus relentlessly on cost optimisation in the short term.
On the other hand, fare wars are likely to create more problems for the full-service carriers rather than low-cost carriers, as the latter have leaner operating models. In the short term, price cuts can be used to spike traffic. However, in the long term these moves are generally counterproductive as the losses can spiral out of control.
As for hiring, international airlines have started recruiting in large numbers, though the domestic carriers are taking it slow. Recently, 115 students got placed in several airlines in just 16 days. Domestic carriers Indigo, Spicejet and Go Air have also started hiring. On the other hand, Emirates, Oman Airways, Atlasjet and Malaysian Airlines are hiring in huge numbers. We recently got a confirmation from China Airline that eight of our students got selected in recent interviews,discloses Valia. However, the company had to close down two of its centres not because of recession like other institutes did, but for geographical logistics.
His optimism is reflected in his forecast for the industry. People are not going to stop travelling and the aviation sector would not suffer a heavy downfall.These hiccups would keep happening. Takeovers and mergers ought to happen and players would definitely make money out of it, he sums up.
Growth potential of the aviation sector
* According to recent estimates by The International Air Transport Association (IATA), India is likely to be a significant player in the global civil aviation business, which was estimated at US$ 5.6 billion in 2008
* The Indian Civil Aviation market grew at a compound annual growth rate (CAGR) of 18%, and was worth US$ 5.6 billion in 2008
* The government is planning to upgrade 45 big and small airports across India. For green field airports, foreign equity up to 100 % is allowed through automatic approvals
* For upgrading present airports, foreign equity up to 74 % is allowed through automatic approvals and 100 % through special permission (from FIPB)
* The Centre for Asia Pacific Aviation (CAPA) has forecast that domestic traffic will increase by 25 % to 30 % till 2010 and international traffic growth by 15 %, taking the total market to more than 100 million passengers by 2010