Global cement majors, who have been looking to strike M&A deals in India, are increasingly finding the existing high valuations in the 280 million tonne Indian cement industry a dampener.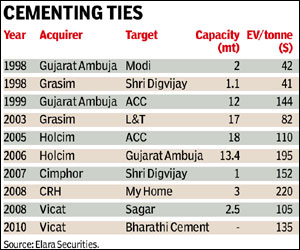 According to industry sources, despite an oversupply situation taking a hit on margins of cement companies, sellers are unwilling to lower their valuations and are still looking at a minimum enterprise value (EV) of $180 per tonne, whereas the replacement cost (cost of setting up a plant) is only about $100-120 per tonne.
These high valuations would be a major deterrent for potential buyers. With these high valuations prevailing, M&A is not expected in the sector for another two years or so, said Ravindra Deshpande, an analyst with Elara Securities.
Experts say Murli Cement, Shree Jayajyoti Cement, Penna Cement and Andhra Cement, among others, who are waiting to get acquired at good valuations, will have to wait a little longer. According to banking sources, sellers are demanding an enterprise value (EV) of about $170-220 per tonne, due to which many domestic players have backed out of potential deals.
Indian cement companies, meanwhile, are staying away from acquisitions and are currently concentrating on organic growth, given the lower replacement cost. Foreign players like Italcementi, Cemex, Heidelberg and Lafarge are eyeing the Indian cement market are negotiating an EV of $140-150 per tonne to grab a share of the pie in the sector, where the long-term growth story is intact.
S Sreekanth Reddy, executive director, Sagar Cement told FE, The look out for consolidation is always on. However, the market is currently stressful. There are not many buyers in the market and the expectation of the sellers are more than what the buyers are willing to pay.
In April 2010, French cement maker Vicat SA bought a 51% stake in Hyderabads Bharathi Cement Corp, at an EV per tonne of about $135-140, higher than the replacement cost. In the same month, ACC Ltd acquired a 45% stake in Asian Concrete and Cements Pvt Ltd. Also, private equity fund KKR invested R750 crore in a wholly-owned subsidiary of Dalmia Cement. Hyderabad-based Penna Cement and Nagpur-based Murli Cement are also scouting for a strategic partner and are negotiating with a foreign cement manufacturer for a possible takeover. However, nothing has been concluded so far.
Says Chaitanya Raut, an analyst with Care Research, Having seen deals at extremely high valuations, none of the cement makers are willing to sell below an EV of $140-150 per tonne and are demanding a hefty premium over the replacement cost. Domestic companies are clearly unwilling to pay such a huge premium. In such a scenario, consolidation is still at some distance.
In 2006, the cement industry saw seven high valuation deals, whereas in 2007, the number of deals trickled down to two.
In 2008, there were three deals, where two MNCs CRH and Vicat - entered India by acquiring stake in My Home Industries ($462 million) and Sagar Cement (R70 crore), respectively.