The Dalal Street couldnt believe the numbers. Despite a fairly healthy order inflow of Rs 17,800 crorean increase of 22% year-on-yearin the December 2009 quarter, revenues of Larsen & Toubro (L&T), Indias largest engineering company, shrank for the first time in seven years. The culprit: the firms engineering & construction (E&C) division. The weak results triggered a sharp sell-off in the stock and dragged it down by nearly 7%. Indeed, it was surprising that the topline was so weak because L&Ts total order book at the end of December stood at a fairly sizeable Rs 91,100 crore.
Net sales fell by just over 6% year-on-year to Rs 8,071.37 crore, much below the estimates of analysts who had pencilled in a growth of anywhere between 10% and 13%. Understandably, the management was forced to beat a retreat and compelled to scale down its revenue guidance. While the L&T management had indicated after the September 2009 quarter results that it would be able to grow sales by about 10-15% for the second half of 2009-10, it now says that sales will grow by just 10% for 2009-10. We have, however, reiterated that the order inflow for the full year is still seen over 30%, says Shankar Raman, executive vice president, finance, L&T.
That has made the Street more wary than ever. Although the management toned down its annual guidance, the reasons why it chose to do so could have widespread implications for the construction industry, observes leading foreign brokerage Deutsche Bank.
Sales for the E&C division dipped 4.7% y-o-y as 20 infrastructure jobs progressed at a snails pace due to various extraneous factors. This, along with delayed financial closure in the case of some projects and deferment in the release of some high-value orders, pulled down the topline. On the other hand, the electrical and machinery segments of the company grew at a fairly good 11% each.
Citigroup points out that in the nine months up to December 2009, the total quantum of construction orders fell to Rs 86,000 crore compared with Rs 1.18 lakh crore in the nine months up to December 2008.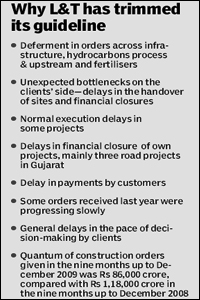 Almost one-third of L&Ts Rs 91,104 crore order book is accounted for by the power sector compared with 22% at the end of March 2009. That clearly indicates that there are more power projects being planned and executed and much of India Incs capital expenditure is being made on the power sector rather than on any other area. This, say industry experts, has already increased the execution period of L&Ts order book to 27 months from the earlier 22 months.
According to Shankar Raman, the companys bias is more towards growth coming from power projects. However, new projects coming from the infrastructure and hydrocarbon segment, he felt, may see slower growth. L&T is expecting mega orders in the hydrocarbon spacesomething that has been postponed several times now. The likely customers are ONGC, MRPL and fertiliser companies.
According to JP Morgan, the company needs to secure Rs 19,000-21,000 crore orders between now and March 2010 to be able to meet the order flow expectations/management guidance; this is also steep, in our view.
L&Ts earnings before interest, tax, depreciation and amortisation margin (Ebitda) expanded 279 basis points y-o-y to a surprising 11.8%. Among the reasons for the better margins were favourable commodity prices and operational cost efficiencies.
Post the poor December 2009 quarter results, there is a possibility that the stock could underperform the BSE Sensex, unless the company manages to prove that it can achieve its new stated guidance of 10% sales growth in 2009-10 FY10E, observes Citigroup Global Markets. Industry experts believe that for L&T to achieve a revenue growth of 10% for 2009-10, the company will have to post a 30-35% y-o-y growth in the March 2010, which, they say could be difficult but not altogether impossible.