Concerned over the increasing tariff war among telecom operators, stock prices of major telecom companies have continued to decline in the domestic equity bourses in the past few weeks. In the past month, shares of Reliance Communications (RComm), Bharti Airtel and Idea Cellular have dropped 35% on an average, compared to 7.18% loss recorded by the Sensex. From their 52-week high, stocks of RComm, Bharti and Idea are down 50.98%, 70.48% and 43.23%, respectively.
Investors fear that tariff cuts, which have already started impacting the average revenue per user (ARPU), will only increase as new players enter the fray and competition intensifies. Markets perceive this as a major negative for telecom stocks and expect a re-rating of telecom stocks on the lower side once the second quarter results of major companies are out.
A recent note sent to its clients by Deutsche Bank during the second week of October states that the competitive intensity in the Indian telecom sector will continue to increase. "The surge of investment in the sector, by both incumbents and new entrants, at the mid-cycle stage of sector growth raises the spectre of capital misallocation. We estimate RComm's ARPU to fall by 20% and Bharti's by 24% if it were to match the offer," said the note.
Idea Cellular, which added almost four million subscribers in Q2FY10, taking its total subscriber base to 52 million, has seen its ARPU decline by 10% to Rs 209 from Rs 232 reported in the first quarter. Similarly, Bharti witnessed its ARPU decline by 9% to Rs 252 in the second quarter, when it added eight million subscribers to take its total subscriber base to 113 million. The market is expecting RComm, which will announce its results on Saturday, to take a hit of 6% on its ARPU the lowest amongst its competitors to Rs 196.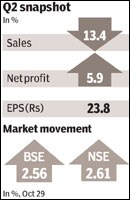 "The quantum of subscriber addition is not sufficient enough to compensate for the average revenue loss per user. After the second quarter results, the market is expecting a downgrade of EPS for most telecom companies," commented Arup Misra, an analyst with Elara Capital Ltd.
Earlier this month, RComm came out with a new 50 paise tariff plan for all STD and local calls to increase market share. Similarly, Tata DoCoMo had introduced the one-second billing scheme, while Bharti announced 50 paise a minute for local and national long-distance calls within its network and per-second billing on a pan-India basis.
"These companies have taken a hit on their topline due to competition fuelled by the new entrants. Urban markets are almost saturated and with the incremental subscriber additions coming from rural areas, average revenue per user per month is expected to go down further," said a Mumbai-based analyst.
Experts opine that more new players are expected to enter the telecom space once the 3G spectrum is rolled out, which will require companies to go for higher capex for necessary infrastructure. In this background, the trend of falling revenue per user is not seen by the market as a sustainable model going forward that can impact their bottomline growth.