In what could be depriving millions of Indians from the latest medical therapies, of the total 140 newly discovered drugs that were launched between 2006 and 2010 globally, only 39 (28%) are available in the Indian market. This gap between the number of new drugs launched globally and such therapies introduced in India is the sharpest in the segment of cancer treatment, although the gap in other therapies such as cardiovascular and neurology (CNS) also remain significant, according to a database of IMS Institute for Healthcare Informatics.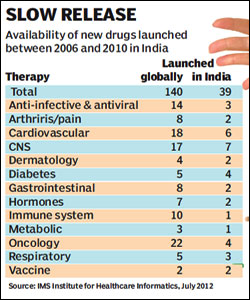 For instance, in the case of oncology, only four new drugs were launched in India, while globally 22 new drugs have been introduced. Similarly, in the case of CNS and cardiovascular therapies, only seven and six new drugs have been brought to the R55,000-crore domestic market, respectively, even though 17-18 newly discovered drugs were commercialised worldwide. While developed countries such as the US and Germany have seen over 65% of the total basket of newly discovered drugs being introduced in their home market, the UK and Spain have access to roughly 60% of these drugs.
This shows that the time lag between global and Indian drug launches, which was expected to shrink post-2005 when India amended its patent law, hasnt significantly improved availability of new drugs in the domestic market.
Explaining the factors behind such a gap, Amit Backliwal, managing director, South Asia, IMS Health, told FE: From the innovators perspective, concerns on lack of patent protection and compliance to WTO agreements loom large. For a few years post-2005, when India changed gears on patent law, big pharma adopted a wait and watch policy to see how the patent policy shapes up on the ground. The way it has been evolving hasnt enthused foreign multinationals and hasnt really inspired confidence in them to expedite the drug launches in this market. A spate of litigation and recent policy decisions including the grant of compulsory licences could prove to be a further dampener as we have already seen in case of Thailand.
These sentiments were echoed by Kewal Handa, managing director of Pfizer India. In the light of compulsory licensing, litigation, lack of clarity in pharma policies, companies are asking, Why should we launch a new drug (patented product) if it gets into litigation the very next day Will the patented product ever see market exclusivity If it doesn't, what is the company' incentive to launch here and invest in this market Handa had told FE recently.
Global companies will be reluctant to launch their patented products because of the lack of an ecosystem that encourages innovation as well as the variable interpretation of the patent law and some of the recent violations, said Ranjit Shahani, president, OPPI, an industry association of foreign multinationals and managing director, Novartis India, adding, however, that the IMS global health statistical base may not be presenting an entirely accurate picture for India because it does not track all the specialty products that are marketed and sold directly by pharma companies in India.
However, Backliwal points to the brighter side of the story. This gap in medium- to long-term may get corrected to some level as many of the big pharmas are now experimenting with innovative mechanisms such as tiered pricing (differential price points for emerging markets) and partnerships with generic firms to tide over these problems,he said.
If some of these models click, the delicate balance between access and innovation can be maintained," Backliwal said. He added that in the fastest growing segments like oncology, a huge, fragmented and largely unorganised supply chain poses challenges for companies to comprehensively understand the dynamics of growth of diseases here.
But a top executive in an Indian pharma firm maintains that big pharma companies launch drugs in developed markets, especially higher-priced ones, mainly for commercial reasons. In many cases, partial or full costs of these new drugs in regulated markets are reimbursed by governments or insurance firms. The situation in other emerging markets such as Brazil and Russia is only marginally better than India, having witnessed the introduction of 34% and 29% of all new drugs, respectively. In this case, China fares the worst, having seen only 10% of total new drug launches.