Are you scared of getting lost Or when was the last time you hunted frantically for that showroom offering lip-smacking discounts If finding your way in an ever increasing crowded city is becoming a daily chore, dont fret. Someone is here to help. And that, too, for free. Reach into your pocket or your handbag, take out your cell phone and voila, you have your own personal guide to talk to you, and turn by turn, help you reach your destination. But there is a catch. You are not the only one getting somewhere; Nokia is tagging along.
In an industry first, the Finnish cell phone maker is offering this service free to its customers who own Global Positioning System (GPS)-enabled phones. Says Jasmeet Gandhi, Head Services at Nokia India, We believe that by making it free we have reduced the entry barrier and will drive more usage. We are thinking beyond what is possible todayand to what is driving innovation and consumer demand tomorrow.
The numbers, too, are tempting. In 2008, only 50,000 phones with GPS were sold in India. In 2009, the number jumped 400% to two lakh units.
However, not all of them have navigation software on them. "While most smartphones might have GPS, it doesn't really translate into as many GPS users as the number of GPS-enabled phones sold in India, says Rajat Agrawal, Industry Expert and Editor, CellPassion Networks.
Most smart phones from vendors such as HTC, Samsung, and Sony Ericsson have GPS chipsets. Garmin Asus has a dedicated navigation smart phone series under the brand nuvifone. On the other hand, SatNav, Google, Navteq, Nokia, TeleAtlas and Mapmyindia are few key players offering GPS Navigation and map solutions in the country.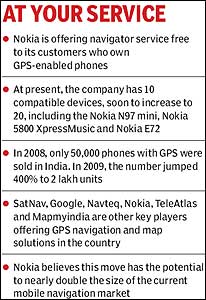 So, Nokia isnt the only one trying to get a share of the domestic GPS Navigation market.
As per the Indian Cellular Association, the total number of mobile phones sold in India jumped nearly 300% from 35 million in 2005 to 130 million in 2009, of which 5 million were smart phones last year. One important feature of smart phones is that they allow the user to install third-party software.
But all this is changing as Nokia recently made GPS navigation service free in some of its smart phone models as part of a new version of Ovi Maps. At present, the company has 10 compatible devices, soon to increase to 20, including the Nokia N97 mini, Nokia 5800 XpressMusic and Nokia E72. The companys foray into GPS navigation and other map-based free services has been primarily seen as a pre-empting move on competition.
Says D Shivakumar, MD, Nokia India, This is a strategic move that will be the game-changer for the industry. We believe that offering the worlds best maps with full navigation features and premium content at no extra cost will be the catalyst that drives mass market and penetration of mobile maps in India.
The boffins at Nokia believe that this move has the potential to nearly double the size of the current mobile navigation market. For Nokia, removing the costs associated with navigation for drivers and pedestrians allows the company to quickly activate a massive user base to which it can offer new location features, content and services. This is part of Nokias strategy to lead the market in mobile maps, navigation and location-based services. The move is also in line with Nokias vision that the next wave of growth will be centred on the location-aware, social internet meaning where people are doing things will become as important as what they are doing.
Research firm Canalys revealed that the number of people worldwide using GPS navigation on their mobile phones was approximately 27 million at the end of 2009. With this announcement, Nokia potentially grows the size of this installed user base to about 50 million by enabling smart phone owners, with compatible devices and devices that will be made compatible shortly to activate free drive and walk navigation through a simple download of the new Ovi Maps.
Nokia will further grow this base as it quickly adds more smart phones to the compatible devices list. Canalys also estimated in 2009 that the installed base of smart phones with integrated GPS was 163 million units worldwide, of which Nokia accounted for more than half (51%), having shipped cumulatively 83 million GPS devices. Nokia made a foray into the GPS navigation business in 2007 with products such as the E90, the N95 and the 6110 Navigator phones.
For some mapping software providers, this free offer by Nokia brings good news. This is great news for SatNav as it will add immensely towards popularising the concept of GPS navigation in India. It will give the users a live feel of how they can use GPS navigation for their advantage. And, of course, this will work in our favour, says Amit Prasad, Founder, MD & CEO, SatNav Technologies.
Apart from handset manufacturers, mobile operators such as Airtel and RCom also provide GPS navigation services. One can buy GPS-enabled smart phones today for anything upwards of Rs 15,000. The GPS navigation software is sold at around Rs 2,000 per licence.
Some feel that Nokias offer will not bring any dramatic change in India because the penetration of GPS is low here. Nokia has not done this only for the Indian market. It has been done keeping the global market more in mind. In India, people are more comfortable stopping by and asking the way and, therefore, GPS usage has been low. Data services are expensive in India. Smart phones are also not sold in large volumes, says Anshul Gupta, Principal Research Analyst, Gartner Last December, Nokia had 64% (CDMA+GSM) share of the Indian market. According to analysts, this offer cannot be co-related with the sales to Nokia handsets.s We cannot expect Nokia handsets sales to rise with this offer. The move is focused more on the European market. Smart phone sales are hardly 4-5% of the total devices sold, says Gupta.
With this miniscule base, growth rate is going to be very high in the initial years, though there is no industry study to provide a reasonably accurate number. As GPS enabled devices slowly penetrate through every layer of phones, the number of users is touted to increase. However, several factors should be taken into consideration that can aid or hinder the growth. The quality of maps for instance. Though they have improved considerably in the last few years, they do not conform to western standards, though a part of the fault is because of lack of accurate address and location databases.
Coming back to Nokias move on offering free GPS services, Romal Shetty, Executive Director, National Head, Telecommunications Sector Advisory Services, KPMG, feels that it is still too early to say whether the cell phone giant is aggressively pursuing this service. Though Nokia has pre-empted this move on the competition, their marketing and advertising events in the current market dynamics do not indicate whether they are serious about it. Such a service cannot be called a game changer in the industry as of now, as most premium end phones cater to a wide variety of services and GPS happens to be just one amongst a dozen other qualities in a phone, he says.
And then Google creeps into the conversation. The perception of Google as a search company is more robust and Nokia is primarily seen as a handset brand. GPS is a different ball game altogether. People like to watch maps on a large screen available with a car GPS navigation system. That is the trend so far, but I am sure India will rewrite everything. GPS on the mobile phone will take off from India, which is yet to happen, says Pankaj Mohindroo, National President, Indian Cellular Association.However, the big difference is that Google Maps does not offer turn-by-turn voice command based directions in India, while Nokias Ovi Maps does. Nokias solution also enables users to store maps on their phone so that it can work even without a GPRS connection. However, what remains to be seen is where this takes Nokia