Experts see little impact of earnings recovery and QE tapering (AP)
Notwithstanding the general concerns around the likely impact of QE tapering by the US Fed, the street regards the outcome of the Indian general elections as the key market moving factor this year. In an FE survey collating the market outlook for 2014, 75% of the respondents said that the election results would determine both the direction of and return on the Indian equities in 2014.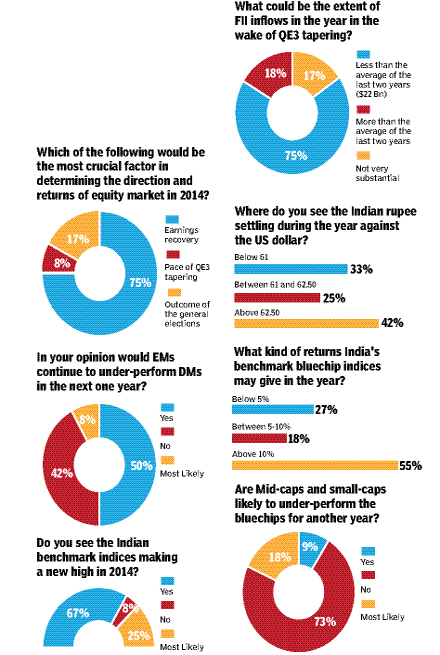 While 17% of the surveyed market participants cited earnings recovery as the crucial factor for market direction, only 8% considered the pace of QE3 as an important parameter in market performance.
Even though a majority of the respondents (67%) said the inflation may not remain stubborn in the year, their views on the stance of the RBI policy as well as the trajectory of the Indian currency remained quite divided. While 50% of the respondents said that the RBI policy during the year would focus towards targeting inflation, close to 42% expected it to be growth supportive.
Respondents of the FE snap survey constituted 16 prominent market experts from various brokerage houses and mutual funds, who included heads of broking operations, research heads, fund managers and chief investment officers.
Their outlook on the rupee appears quite scattered given the marginal difference in their views; 33% saw the rupee moving below 61 against the dollar while 42% expected it to settle above 62.50 during the year.
However, on three aspects the market expert appeared in agreement. Two-thirds of the respondents said FII flows in 2014 are likely to be capped at $22 billion, the average of last two years net fund flow. Further, nearly two-thirds had consensus on the likelihood of the benchmark indices making a new high this year, though the view on the extent of gains appeared less unanimous. As many as 55% of the respondents expected benchmarks to rally more than 10% this year.
Likewise, a higher number of the surveyed experts (73%) said they don't see the mid-caps lagging the large-caps for another year. But their views on which segment of the market can lead the benchmarks remained bifurcated. While 55% said that the export-oriented sectors, the frontrunners of 2013, could continue to drive the market, 45% believed that cyclicals with beaten down valuations are likely to steer the market as the economic scenario improves.