In order to give market participants more tools to hedge foreign exchange risks, financial market regulators will introduce options trading on the currency derivative markets by May, 2010. Until now, only futures trading in currency pairs of dollar, yen, pound and euro has been permitted on the exchange trading platform.
The RBI-Sebi Standing Technical Committee on exchange traded currency futures in India is currently deliberating on the various parameters for introducing currency options trading. ?Options in currency derivatives will be introduced within next three months,? said a top Sebi official. Market participants feel new products such as options will signal further maturing of Indian forex markets and bring them on par with other global markets.
In currency futures, the participant is locked into a specific contract that must be honoured on the due date. In the case of currency options, they provide forex participants larger protection as by merely paying up a small premium they can get into a contract at a pre-decided price and have the option to complete the deal. All they stand to risk is the premium.
A call option gives the buyer the right to purchase a currency pair at a given exchange rate in future, but doesn?t have the obligation to exercise the contract. Similarly, the put option gives the buyer the right to sell a pair of currency on a future date at a pre-determined rate.
?Options are the most important tool to hedge against the currency risk,? said Jamal Mecklai, CEO, Mecklai Financial. ?Currency futures eliminates risk, but does not offer any opportunity. However, while eliminating risk, currency options provide opportunity for a trader. Even a small guy who can?t purchase options contracts on the over the counter market will be able to do it through the exchange trading mechanism,? he said.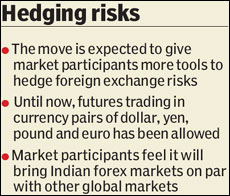 Introduction of options trading in currency derivatives is being considered after seeing the success of futures trading in the currency pairs of rupee?dollar contracts introduced in August 2008. From an average daily turnover of Rs 200 crore during its initial months of trade, the currency derivative segment of both the National Stock Exchange (NSE) and MCX?SX are now generating an average daily turnover of Rs 14,000 crore and Rs 14,700 crore respectively. From February 1, these exchanges will also start offering trading in currency pairs of Euro, Yen and Pound Sterling.
Globally option contracts constitute around 15% of the total trade on the exchange traded currency derivative markets.