RBIs token rate cut dampened investors outlook of the financial health of companies with lower interest cover. About 10 of BSE 200 companies that have reported December quarter results and maintain the lowest interest cover closed flat to negative on Tuesdays trade.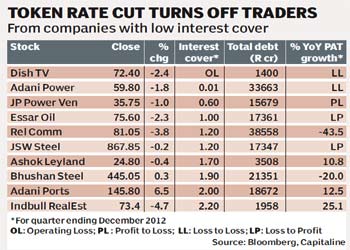 Even as the benchmark indices closed the session with marginal decline of about 0.5%, indicating traders booking profits as the rate cut was already priced in, some of the stocks covered under the study shed 1% to 4% on Tuesday. IndiaBulls Real estate and Reliance Communications were the biggest losers, having retreated about 5% and 4% to R73.4 and R81.05, respectively. Even Dish TV, Essar Oil and Adani Power fell 2%.
Market observers highlight that while a turn-around in the interest rate cycle is a positive, individually companies, especially from investment driven sectors need to see revival in the business activity for the rate cuts to be clearly reflected in their financials. Even as lower interest rates provide broader relief, an improvement in the business environment is necessary for the operational and financial gearing of companies, said Andrew Holland, CEO, Investment Advisory, Ambit Capital.
Interest cover or the interest coverage ratio compares a companys profit before interest and tax (PBIT or EBIT) to its interest expenses in a particular period. This helps determine the companys ability to meet interest outgo on outstanding debt through its operating earnings. Thus, lower interest cover indicates that lesser earnings are available for the company to fulfill its interest payment and reflects its vulnerability to an increase in the interest rates.
All of these companies have lower interest cover of less than 2.5 times for three months to December 2012 whereas most of them have huge debt burden. Almost all of the companies either reported a decline in their net earnings, extended losses or just turned profitable compared to last year.
Even as bankers have assured a transmission of the lower rates, the extent of cuts, especially for some of the companies which may have borrowed at 10% -12% of interest rates, is a critical factor, said an analyst.
As the street expectations of a rate cut gained momentum, some of these companies from the infra, power and capital goods sector that demonstrated low interest cover in at least two of the last five quarters witnessed their scrips rallying in the last three months. The gains were based on expectations that lower interest rates are expected to reduce the interest payment of some of these companies, in turn helping their net earnings.