In a development that could bring major relief for several IPL franchisees, corporate affairs minister Salman Khurshid on Friday said the government has so far not found any serious non-compliance issues relating to the Companies Act 1956.
I have no reports from the Registrar of Companies (so far) and I dont think there is anything serious on the compliance issue. If there was something serious, then I would have been the first person to know it, the minister told FE. Khurshid added that the final reports were still to come in after a concerted probe being conducted by the Registrar of Companies (RoC) and therefore, forming a final opinion on the matter was not possible. The ministers comments are significant as the chairman of the parliamentary standing committee on finance Yashwant Sinha has told reporters that the franchisees were non-compliant with the Companies Act to a large extent. The former finance minister had also said that besides irregularities, there was failure of duties to check and stop fraud.
According to Khurshid, though the corporate affairs ministry was waiting for the enforcement directorates report, its role in the IPL scam was limited. Since the IPL fiasco first came to light following the Shashi Tharoor-Lalit Modi spat over Sunanda Pushkars alleged sweat equity in the Kochi IPL team, the corporate affairs ministry had directed its RoC offices to seek details from IPL team owners.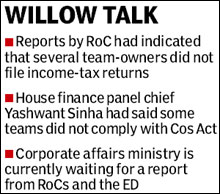 RoC had written to all IPL teams in April seeking complete information including ownership details to proof of filing tax returns. Following the probe, several high-profile celebrities were pulled up by the RoC. Shah Rukh Khan, promoter of Red Chillies Entertainment which holds a majority stake in Knight Riders Sports, owners of Kolkata Knight Riders, was one of those named a report for not filing returns. Similarly, Jaipur IPL was also pulled up by the RoC for not filing annual returns as required by the Companies Act.
Khurshid added that even if there were minor deviations of compliance issues, it did not amount to a criminal offence and the erring companies are given ample opportunities to duly file the returns.
According to officials in the corporate affairs ministry, the IPL probe has bared several loopholes in the Companies Act that the ministry is seeking to address through the new Companies Bill pending with a parliamentary committee. One of these is to give the RoC executive powers to issue warrants to companies. As per the current norms, under Section 209 of the Companies Act, 1956, the RoC can only initiate prosecution charges against the promoters for which they have to move a local court first.