Tata Communications (Tata Comm), which is caught in a row with the government over 773 acres of surplus land it received in 2002, on Tuesday said demerger of the surplus land will pave the way for raising non-debt funding for its projects. The Tata Group had bought 45% in VSNL (now Tata Communications) in 2002 as part of the governments disinvestment process, but this did not include the ownership rights of the land in question.
At least with this, the barriers for getting non-debt funding and raising equity will be removed and we will be able to think of proposals on the table. The surplus land is lying as it was and has not been put to any commercial use. The government is not allowing us to raise equity because they would get diluted in terms of their stake in the land, said a company official on condition of anonymity. In 2008, Tata Comm said that it will be investing about $2 billion (around R8,000 crore then) in three years for expansion of its infrastructure and services across the globe. Half of the investment was to be used for building submarine cables and network enhancement and the rest was to be invested to roll out WiMax. The company has also started with global cloud expansion in South East Asia from this month.
Monetisation of land assets will reduce balance sheet pressures and increase financial flexibility of the company.
With this, it will be easier for the company to raise equity and also get a strategic partner, said a Mumbai-based analyst. We believe higher-than-estimated sale price for the surplus land, ability to induct a strategic partner at broadband unit for WiMax expansion, higher-than-estimated improvement in margins, and earlier-than-estimated turnaround of the South African venture are key positives for the company, he added.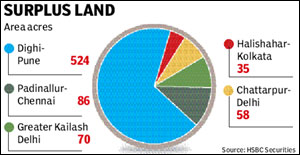 The main hurdle to the process of demerger of surplus land now is bearing the stamp duty liability (while spinning off the excess land as a separate entity or to sell it off) which will run into anywhere between Rs 800-1000 crore and Tata Comm won't bear it as we are not entitled to even a single penny from the land sale, said a Tata Comm spokesperson.
In response to Union communications minister Kapil Sibals probe into the delay in demerging surplus land of 773 acres, Tata Communications said in a media statement Tuesday, We welcome any government process that hopefully will expedite the demerger of surplus land, which we have repeatedly requested in the best interests of the company and its shareholders. We categorically deny that Tata Communications or the Tata group has benefited or seeks to derive benefit from the surplus land.
Sibal is of the view the Tatas were deliberately delaying a final decision on the fate of the land, spread over five locations in Delhi, Kolkata, Chennai and Pune estimated to be anywhere between Rs 6,000-8,000 crore.