With the foreign institutional investors (FIIs) staying away from the futures, volume of derivatives in the April series has taken a hit.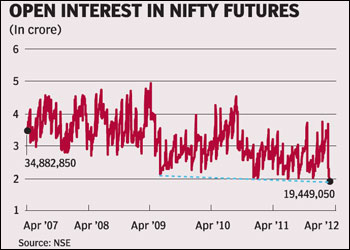 Volume in the segment has come off since the start of the series. While not unusual at the beginning of a new series, the concurrent fall in the open interest of the index points to historical lows and may be a part of the GAAR effect.
The open interest in the Nifty futures had dropped to five-year low of 1.93 crore shares on Tuesday. Traders say the falling FII participation in the segment following concerns over the tax treatment to FIIs under the proposed GAAR (General Anti-Avoidance Rule) is also spoiling the party.
The daily turnover in the derivatives segment since the inception of the April series last week, has declined to an average of R82,861 crore compared with R1.23 lakh crore for the first three series average daily turnover of R1.23 lakh crore.
According to a trader, the FIIs have been reducing exposure to the derivatives segment in the April series, which coincide with the start of fiscal 2012-13, from when the proposed GAAR guidelines if passed would be applicable.
The uncertainty around the GAAR provisions is the predominant factor in an average 3% fall in the open interest of the Nifty futures during the first week of the April series, he added.
The finance minister, proposed to include GAAR provisions that are aimed to target deals intended for tax avoidance in the 2012 Finance Bill. Foreign investors are concerned that that the proposed rule could apply to holders of participatory notes (P-Notes), the instrument through which foreign entities not registered in India could invest in the stock markets, issued by FIIs.
According to Vishal Jain, AVP, equity derivatives, ICICI Securities, besides unwinding of FII positions, especially in the P-note-backed trades have caused a decline in market activities, lower arbitrage flow in the derivatives segment and higher overseas cost of funding has also trimmed the FII participation. In last two months, due to attractive spreads of about 30 to 40 points, between Nifty futures and underlying index, there was active index arbitrage. However, in lat one week, this spread has narrowed to 25 points, resulting into a decline in the arbitrage flow, he added.
Some traders however point out that such lower open interest in the Nifty futures point to an impending market correction of the order of 8-10%.
In the recent past, in December 2010 and July 2011, the market corrected significantly when the open interest of the Nifty futures dropped at such lower levels. The market could correct further towards 5050-5070 mark, this time around as the increase in open interest is expected to be accompanied by a simultaneous rise in market volatility, said Siddarth Bhamre, Head of Equity Derivatives at Angel Broking.