The year 2009 seemed to have ended well for the Indian metals industry, which saw quite a number of deals being executed, despite the continued slowdown in the US and Europe.
ArcelorMittal finally succeeded in getting its first manufacturing presence in India this year, after signing a share purchase agreement with the RK Miglani family for acquiring 5.6% shares in Mumbai-based Uttam Galva Steel Ltd. Experts believe that going ahead, ArcelorMittal could acquire a majority stake in Uttam Galva.
ArcelorMittal, which has charted out growth plans in the emerging markets, had planned to enter India a couple of years ago, by setting up greenfield plants in Orissa and Jharkhand for a total of about 24 million tonnes. However, the company was not able to acquire land in both the states due to delays in persuading farmers and others to sell the land. ArcelorMittal has now decided to set up a 6 mtpa steel plant in Karnataka. In India, the automotive, steel and cement sectors have been seeing a revival in recent months, making the country an attractive destination for overseas players. Indias automobile output is growing at the rate of 20-25% a year, driving the demand for flat steel. Steel demand is growing at 9-10%, according to industry players, while cement is growing at 8-10%.
The latest to join the race is Japan's JFE Steel Corporation, the worlds sixth largest steel producer, who entered India in a technical collaboration for automotive steel with JSW Steel Ltd. With this collaboration, JSW Steel is also looking to sell as much as 40% stake in its upcoming 10-million tonne steel unit in West Bengal to JFE Steel. Similarly, Bhushan Steel early this month entered into a technical and marketing agreement with Japan's Sumitomo Metals and according to reports, is also considering selling up to 40% stake to the foreign partner in its proposed 6 mtpa plant in West Bengal.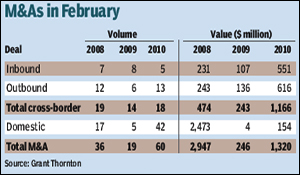 Indian steel markets are likely to offer good prospects in the long term, but the risks in large greenfield projects are enormousfrom land acquisition to statutory clearances to raw material security. An operational asset may be better suited for acquisitions, Dipesh Dipu, principal consultant (metals), PwC had told FE. During the year, Essar Steel acquired assets of Shree Precoated for Rs 1,200 crore and became the largest cold roller and the largest producer and exporter of colour coated steel in India. With this acquisition, the company is expecting its topline to increase by Rs 2,600 crore every year with more access to western and southern markets.
The year was not too rosy for all players. Tata Steel had its share of troubles with a European demand slump hitting its Corus unit. The UK firm said it will partially mothball its Teesside plant after an international consortium walked away from a 10-year deal to purchase its slabs. This will result in a loss of about 1,700 jobs. The year did not offer much sheen for metal giant Vedanta, either. It lost the race for US copper miner Asarco to Grupo Mexico, after a court ruling favoured Grupo over the Indian firm.
Vedanta was banking on the copper mines of Asarco to become the third largest copper producer. Experts believe, going ahead, the robust long term demand in second fastest growing Indian economy will kick start merger and acquisition (M&A) activities by foreign conglomerates on Indian soil.