Officials of the Bombay Stock Exchange (BSE) will meet market regulator Securities and Exchange Board of India (Sebi) on Wednesday to seek its consent for increasing BSE stake in Central Depository Services Ltd (CDSL) to 51%. BSE currently holds a stake of 36.6% in CDSL and a decision to hike its holding in CDSL was taken in its last board meeting on February 6, subject to regulatory approval.
The Sebi (depositories and participants) Regulations, 1996 state that the sponsor shall, at all times, hold at least 51% of the equity share capital of the depository and no participant shall, at any time, hold more than 5% of the equity capital of the company. Currently, BSE, along with other sponsors like Bank of India, State Bank of India, HDFC Bank, Union Bank and Bank of Baroda, holds over 94% stake in CDSL. Of these, HDFC Bank, with a stake of 14.36%, is believed to be in favour of selling its stake to BSE. An e-mail sent to BSE regarding the meeting on Thursday did not receive any response.
CDSL?s total paid up capital is 104.5 crore equity shares and is valued in the range of Rs 80 to Rs 120 per equity share, according to market experts. A person familiar with the development said several CDSL shareholders are against BSE hiking its stake, as they fear CDSL will lose some of its key members to rival depositories if it becomes a subsidiary of BSE. Out of the 498 depository participants registered with CDSL, around 120 are exclusive members of the National Stock Exchange (NSE). A BSE board member, on the condition of anonymity, said the proposal to hike stake in CDSL faced opposition from a few of its own board members. ?CDSL is doing an excellent job and has managed to better NSDL in many areas in recent times. If BSE hikes its stake to 51% in CDSL, many of the existing DPs will hesitate to conduct business with CDSL,? he said.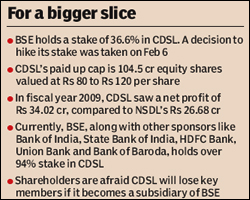 CDSL had, for the first time, managed to come out with better numbers than its rival NSDL during the financial year 2009. During the period, CDSL reported a net profit of Rs 34.02 crore, compared to Rs 26.68 crore generated by NSDL.
However, BSE?s top management is keen to increase its stake in CDSL as it believes this will help it in commanding higher valuations that will give some of its members an opportunity to exit at a higher price. Initially, BSE had placed its shares with overseas bourses at Rs 5,200 per share, now being quoted at Rs 430 after its bonus issue in the ratio of 12:1 in 2009.