For diversified Adani Group with interests in infrastructure, power and trading, the next port of call seems to be the cricket pitch. According to investment banking sources, the Gujarat-based group is close to acquiring IPL 2009 winner Deccan Chargers for $280-300 million. This is almost three times the price at which Deccan Chargers Sporting Ventures (DCSV) acquired the team in January 2008.
DCSV is 80% owned by Deccan Chronicle, which publishes Deccan Chronicle and Financial Chronicle, with the balance 20% held by leading media agency GroupM. Deccan Chargers has been looking for a buyer for almost two years.
If the deal goes through, this will be second-time lucky for Adani: Represented by some individuals, the group had unsuccessfully bid for IPL teams in March. Sahara group and Rendezvous Sports won the two new teams (Pune and Kochi respectively) which were put up for auction.
A top executive at a leading financial institution said the Adani-Deccan deal is almost complete. ?Some top functionaries from the Adani group, in their individual capacity, will pick a majority stake in DCSV. An announcement is expected shortly,? he said.
When contacted, DCSV director PK Iyer said: ?If there is a decision, we will inform the stock exchange. Since we have not communicated anything to the exchange, how can I comment??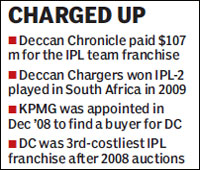 It is not clear if Deccan Chronicle will sell out completely or reduce stake to become a minority shareholder. An outright change of ownership will see a change in team?s name as well, since ?Deccan? is used by the current promoters of Deccan Chargers ? similar to Royal Challengers Bangalore where Royal Challenge is a brand promoted by Kingfisher, who are also the promoters of Bangalore?s IPL franchise team.
Sports marketing agencies see this as a significant move, since nearly 500 domestic and international players will come up for auction for the next edition of IPL to be played in 2011 with 10 participating teams. ?It is a good time to sell an IPL franchise as the next player auctions may drive up the cost of all franchisees,? said a senior executive with a leading sports marketing firm managing some top cricketers, including those who play for IPL. ?If one can get three times the price within three years of owning a franchise, then it is a good deal,? he added.
Experts say several Deccan Chargers players including Australian Andrew Symonds, Chaminda Vaas, Dwayne Smith and Herschelle Gibbs among others may not be available to the Chargers from IPL-4 and the bidding process may just make it difficult for several teams to find leading players.