It was a key element of the fiscal stimulus package unveiled in January, but seems to have got lost in translation. To draw down rising inventories of commercial vehicles, the Centre had announced a Rs 4,735-crore package for states to buy 15,000 buses for urban transport under the Jawaharlal Nehru National Urban Renewal Mission.
But the urban development ministrys technical specifications for these buses and states desire for high-tech features have meant that instead of ridding itself of inventories, the industry is now trying to scale up capacity. The net effectthe Centre is being forced to extend the deadline for the buses delivery further to March 2010 from the rescheduled date of December 31, 2009.
Car sales have improved, but commercial vehicles are picking up slowly. Most of the 63 cities have asked for low-floor buses, as they are good-looking and high-tech, irrespective of whether they are suitable for local roads. The industry is still developing the capacity to supply such buses, so their delivery will take more time, heavy industries secretary Satyanarayana Dash told FE.
The stimulus measure envisaged the purchase of standard conventional buses. As a result, bus suppliers like Ashok Leyland and Tata Motors, which had enough capacity for standard buses, are now developing capacity for low-floor buses. So it wont be possible for them to supply the buses before March 31, 2010, Dash said.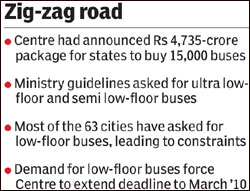 Ironically, the Society of Indian Automobile Manufacturers (Siam) had alerted the urban development ministry about the industrys capacity constraints on low-floor buses as early as February. Yet, the final guidelines for the buses issued by the ministry asked for high-tech ultra low-floor (400 mm height) and semi low-floor buses (650-700 mm height).
Though standard buses, with a floor height of 850-900 mm, were also included, the other technical specifications by the urban development ministry meant even those couldnt be delivered fast. Most of the additional features are standard features in ultra low-floor buses such as audio and video cameras, vehicle tracking system and integrated common controls. From Rs 20 lakh a bus, standard buses that meet these tech specs cost over Rs 30 lakh while low-floor buses cost between Rs 45 lakh and Rs 60 lakh.
The buses being ordered by the states are of all types, low-floor, semi low-floor and conventional. Within the broad categories, each state and very often cities within states have their unique specifications,a Tata Motors spokesperson told FE.
Tata Motors has requisite capacity and the company, in any case, is acting with alacrity to deliver the buses, the spokesperson added.
According to the latest data, over 11,000 buses have been ordered with various manufacturers under the JNNURMover 7,000 are standard buses, while the rest are in the low-floor category. Of these, a mere 1,500 buses have been delivered till October, with several hundred standard buses ready but languishing due to confusion over specifications.
We are ramping up production at Alwar by 50% from 200 units a month to 300 units a month as well as start manufacturing 200 buses a month at our luxury buses facility near Tiruchirapalli to cater to the demand from southern states, Rajiv Saharia, executive director (marketing), Ashok Leyland, said.
While major players are scurrying to scale up low-floor capacities, passenger carriers sales continue to see negative growth. According to Siam, sales of medium and heavy passenger carriers declined by 13.1% at 3,424 units in September 2009 against 3,938 units sold in last September. Sales of light passenger carriers or mini-buses also declined marginally at 2,360 units vis--vis 2,384 units in September last year.
On behalf of the industry, Siam has asked the ministry to further extend the delivery period, in the light of a varying range of specifications to be met.