Relatives and friends of the passengers of Malaysia Airlines Flight 370 said they were tortured by the uncertainty over the fate of their loved ones, as they wait for hard evidence that the plane had crashed.
''This is the trauma of maybe he's dead, maybe he's not. Maybe he's still alive and we need to find him. Maybe he died within the first hour of the flight, and we don't know,'' Sarah Bajc, the American girlfriend of U.S. passenger Philip Wood, said in Beijing.
''I mean, there's absolutely no way for me to reconcile that in my heart,'' she said.
The Malaysian government has come under strong criticism from China, home to more than 150 of the passengers, where relatives of the missing have accused the government of "delays and deception".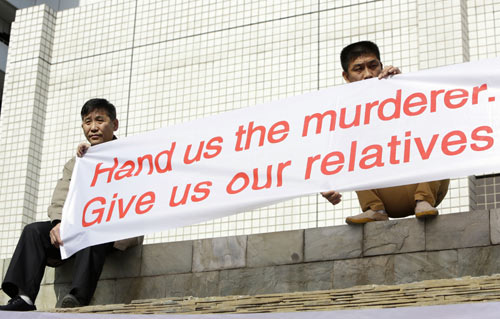 Family members of passengers onboard the Malaysia Airlines Flight MH370 hold a banner during a protest. The protest was also held to thank overseas Chinese who protested in front of the Malaysian Embassy in London. Fresh objects spotted by planes searching for a missing Malaysian passenger jet in a new area of the southern Indian Ocean have again raised hopes of unravelling the three-week old mystery.(Reuters)
On Saturday, more than 20 Chinese relatives staged a brief protest on Saturday outside the Lido hotel in Beijing where families have been staying for the past three weeks, demanding evidence of the plane's fate.
The peaceful protest came just days after dozens of angry relatives clashed with police after trying to storm the Malaysian embassy.
Many of Saturday's protesters carried slogans demanding the "truth" about their lost loved ones.
"They don't have any direct evidence," said Steve Wang, who had a relative on the flight. "(Their conclusion) is only based on mathematical (analysis) and they used an uncertain mathematical model. Then they come to the conclusion that our relatives are all gone."
Since Malaysia Airlines Flight MH370 disappeared three weeks ago, Malaysia has faced verbal attacks from China's government, media and passengers' families angry at its perceived muddled response and poor communications.
Several Chinese celebrities have now taken up the cudgels on social media, urging their millions of followers to boycott Malaysia, threatening to worsen what seems likely to be a heavy fall in lucrative Chinese tourism.
In Malaysia, China's reaction is increasingly viewed as high-handed, excessively harsh and hypocritical as Kuala Lumpur grapples with what it sees as an unprecedented crisis.
"Do they think they are the only ones grieving over the missing plane" wrote Malaysian Facebook user Pei Ling Gan.
"I wonder if they would speak up against their government for Tibet and Taiwan in the name of truth and justice, too."
Several high-profile Chinese celebrities, including actress Zhang Ziyi, star of the movie "Crouching Tiger, Hidden Dragon", have lashed out at Malaysia and urged Chinese not to visit.
Grief-stricken relatives cursed and screamed at the Malaysian ambassador and other government and airline officials at news conferences in Beijing this week, accusing them of murdering their loved ones. Most passengers on the flight were Chinese.
Passengers' relatives tried to storm the Malaysian embassy in Beijing on Tuesday and were provided with buses by police afterwards, reinforcing suspicions that China's government has encouraged the outbursts in order to channel discontent over the so-far fruitless search towards Malaysia.
"The relationship between the Malaysian government and the Chinese government is quite strong. So I don't know why they are acting like this, maybe it's convenient," said Nur Jazlan Mohamed, a member of parliament for Malaysia's ruling party.
Chinese leaders have several times "demanded" action from Malaysia, while state-backed media have taken an even harsher line, going so far as questioning Malaysia's ambitions to become a developed country. Social media campaigns have struck a threatening tone, with conspiracy theories gaining popularity.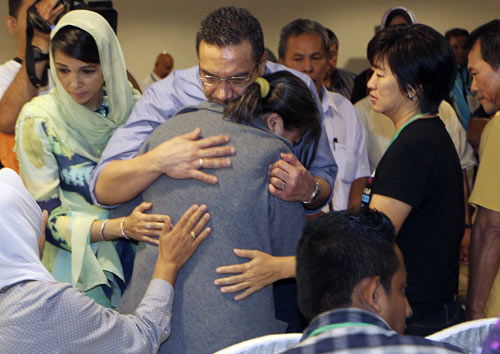 Malaysia's acting Transport Minister Hishammuddin Hussein comforts a relative of passengers on board the missing Malaysia Airlines flight MH370 . Newly analyzed satellite data shifted the search zone on Friday, raising hopes searchers may be closer to getting physical evidence that Flight 370 crashed in the Indian Ocean on March 8 with 239 people aboard. (AP)
SEARCH CONTINUES IN NEW AREA
A Chinese aircraft flying over the search zone for Malaysia Airlines Flight 370 on Saturday spotted several objects floating in the sea, including two bearing colors of the missing plane, but it was not immediately clear whether they were related to the investigation, officials said.
A Chinese Ilyushin IL-76 spotted three floating objects, China's official Xinhua News Agency said, a day after several planes and ships combing the newly targeted area closer to mainland Australia saw several other objects.
The Australian Maritime Safety Authority said that objects cannot be verified or discounted as being from Flight 370 until they are relocated and recovered by ships. ''It is not known how much flotsam, such as from fishing activities, is ordinarily there. At least one distinctive fishing object has been identified,'' the agency said.