While most mutual fund houses have displayed the right amount of dexterity in moving out of firms that have high debt on their books or have been referred to the corporate debt restructuring (CDR) cell in the past few months, a few MF schemes still seem to be willing to bet on these names.
Most notably, at least three MF schemes have opted to stay invested in engineering and construction major Hindustan Construction Company (HCC) for the three months to September 2012. Sundaram Select Midcap Reg had the highest exposure in HCC to the tune of R20.78 crore, while Reliance Infrastructure Retail and Principal Retail Equity Savings had investments worth R13.39 crore and R0.15 crore, respectively. Together, these investments were worth R34.32 crore, data collated from Value Research show.
HCC seems to have long been a favourite with fund houses with over 30 schemes invested in the company in the June, September and December quarters of 2010, with total investments amounting to anywhere between R167 crore and R343 crore during these quarters. The number of MF schemes came down to 18 in the March quarter of 2011 and 16 in the quarter ended September 2011. This number further slipped to 13 in the March quarter and 8 in the June quarter.
HCC got the nod for its debt recast proposal from the CDR cell earlier this year. HCC had a net debt of R6,280 crore at the end of the fiscal year 2012. The company's share price has underperformed the benchmark indices this year, rising 2.67% against a 21% rise for BSE Sensex.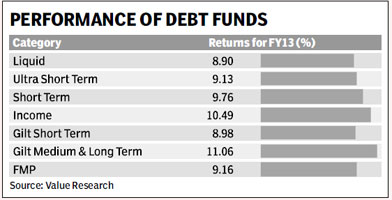 Suzlon, which had net debt of R11,337 crore at the end of FY12, has also seen significant interest from fund houses in the past 10 quarters. The number of schemes invested in the firm totalled 26, 25, 11 and 18 for the successive quarters of FY12. Just two years ago, as many as 48 schemes were invested in Suzlon, with total investments in excess of R91 crore.
Until the June quarter, investments in Suzlon totalled R1.59 crore, of which a little over R1 crore was invested by three schemes of ING Investment Management ING Balanced, ING Core Equity and ING Midcap. For the three months ended September 2012, just one scheme Motilal Oswal Shares M100 ETF remained invested in Suzlon, with investments amounting to R0.77 crore.
The long-term sustainability of a company and its ability to generate cash flow are two important factors to keep in mind before investing in it. It is difficult to predict the business viability of companies that are referred to or may be referred to a CDR cell. So, it's best to avoid investing in these companies, said the equity head of a large fund house, who did not want to be quoted. He added that there is a possibility that fund houses may be taking a deliberate risk investing in these firms, hoping for a turnaround in the near future.
To their credit, a large number of fund houses have managed to press the exit button in high-debt companies that have now been referred to the CDR cell. For instance, the 3 schemes that were invested in Kingfisher Airlines till the June quarter of 2011 exited the company in the subsequent quarter. Accumulated losses of Kingfisher as of March 2012 was around Rs 8,000 crore.
Just a handful of schemes have invested in Bharati Shipyard and Hotel Leelaventure in the past 10 quarters. The number of schemes in GTL, on the other hand, reduced from 7 in the March quarter of 2011 to 2 in the subsequent quarter. Goldman Sachs S&P CNX 500 was the last scheme to exit GTL after the March quarter of 2012 but had minuscule holdings of Rs 0.01 crore. The invested schemes in Deccan Chronicle Holdings reduced from 7 in the September quarter of 2011 to 3 in the subsequent quarter. UTI Long Term Advantage Fund Series I had investments of Rs 0.69 crore in the June quarter of 2012, after which it exited the stock.