Mauritius, the tax haven which continues to enjoy a special double taxation avoidance tax treaty with India, has been the largest source of foreign investment in India not only in terms of FDI, but in portfolio investments as well.
Mauritius-based FIIs and sub-accounts outstanding investment in Indian stocks stood at a whopping $56 billion as on April 30, 2012 the highest inflow from any single country into India.
A total of 721 Mauritius-based FIIs and sub-accounts had these assets under custody (AUC). This is followed by 2,892 US-based FIIs and sub-accounts, whose AUC in Indian equities market stood at $55 billion as on April 30, 2012. These two countries account over 50% of the total AUC at $208 billion or R10.93 lakh crore as on April 30, 2012 held by FIIs and sub-accounts in India.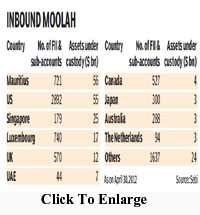 This data has been prepared by the Securities and Exchange Board of India (Sebi). Foreign portfolio investments in the Indian market have gradually grown since September 1992 when India first allowed FIIs and overseas corporate bodies to invest.
AUC of Singapore-based FIIs in Indian stock stood at $25 billion, followed by Luxembourg at $17 billion, UK at $12 billion and UAE at $7 billion. Canadian FIIs had $4 billion of AUC in India, while Japan, the Netherlands and Australia each had $3 billion.
The data bear out the concern of the finance ministry that the Mauritius route is being used by FIIs to evade paying short-term capital gains tax in India. The government had also highlighted concerns of round-tripping through the Mauritius route. This basically means that Indian money is routed through Mauritius into the local stock market under the garb of FII investment. Deloitte tax partner Vipul Jhaveri said that one of the reason for FIIs to route their funds from Mauritius is that they get capital gains tax benefits.
Finance minister Pranab Mukherjee last month put off introduction of General Anti-avoidance Rules by one year, facing pressure from FIIs and a sharp drop in inflows. GAAR provisions were introduced in the Union Budget 2012-13 to bring FIIs using Mauritius route just to evade on tax within the ambit of tax authorities.
As on May 15, 2012, there were 2,012 FIIs and 6,332 sub-accounts in India. A total of 203 new FIIs and 1,062 fresh sub-accounts were registered with Sebi in 2011-12. India received investments from FIIs based in 54 countries and sub-accounts from 48 countries. More than one-third of sub-accounts are from the US. Earlier this month, minister of state for finance SS Palanimanickam said the government wants to review DTAA with Mauritius to prevent misuse of the treaty and track illicit money allegedly stashed in the African island nation. However, Mauritius is unwilling to cooperate in addressing the tax-evasion issue, he had said.