Local sales double in 7 years as imports treble
During the past seven years, when the domestic drug retail market just over doubled to R60,000 crore, imports of drugs and pharmaceuticals have more than trebled. Drug imports rose to R11,113 crore in fiscal 2012 from R3,169 crore in 2005, according to CMIE data.
Over 65% of these imports is being sourced from three countries China, the US and Switzerland. Over 39% of India's pharma imports are from China, while US and Switzerland together account for over a quarter of total drug-related imports.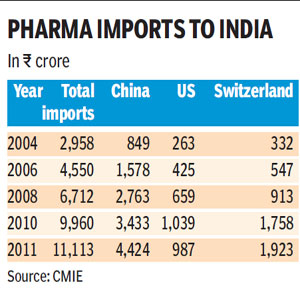 The trend is interesting because India is celebrated as a major exporter of drugs. Experts indicate that while the increasing imports from China signify growing dependence of raw materials bulk drugs and intermediates a sizeable share of imports coming from US and European countries are finished goods or formulations.
A large chunk of imports coming from these countries (US and Switzerland) would be patented products, for instance, high-end drugs particularly specialty products in segments such as oncology. Post-2005, once India changed gears on patent policy, many big pharmas started introducing many of their patented drugs here, said Sujay Shetty, India leader, pharmaceuticals and life sciences, PricewaterhouseCoopers.
A senior executive with a top domestic drug firm said that once a requirement that mandated foreign firms to manufacture a certain part of the drugs sold here was relaxed in 1995, foreign drug firms started showing preference to import, especially the patented drugs they sell here.
Unlike in China, here the policies in our country neither provide any great incentive to foreign drug makers who manufacture here, nor do they provide for any disincentive for not manufacturing here. So it is obvious that for the specialty products which demand complex manufacturing, they prefer other centres," he said.
Another top executive with a foreign multinational firm told FE that the decision to manufacture locally is a function of pricing and existing market size of any concerned drug, among other factors.
"For most drugs that we are importing, the market in India has not evolved to maturity although there is immense potential for growth," he said. However, another factor that to some extent could be driving up the imports from European countries is the increasing exports by mid-sized Indian drug firms to European countries.
"Increasingly, mid-sized domestic drug makers are exploring opportunities to export finished drugs to European countries. Some countries actually have guidelines prescribing that source of raw material should be from European countries. For European countries, too, the acceptability is greater when the source of raw materials is European, which makes domestic firms derive some of their bulk drugs from European countries even if it is more expensive than sourcing from China," said Vishal Gandhi, managing partner, BioRx Venture Advisors, a boutique investment bank focused on life sciences.