Stock markets ended 2013-14 fiscal on a positive note with the
BSE Sensex
rising by 46.30 points to fresh record closing high of 22,386.27 on buying by foreign funds in select oil, metal and banking stocks ahead of RBI policy meet.
The 30-share barometer, which remained on a record setting spree for the sixth day, touched a record intra-day high of 22,467.21 in a volatile trade. It fell to a low of 22,253.78 in the day.
The NSE Nifty index of National Stock Exchange too touched all-time high of 6,730.05 during the day but settled a tad lower at 6,704.20, still up by 8.30 points over the previous close.
Markets remained on setting record levels for the sixth consecutive session on hopes that the RBI may keep interest rate on hold in the policy meeting tomorrow, brokers said.
Markets Top Gainers, Markets Top Losers
Brokers said 2013-14 ended on a cheerful note as foreign investors remained net buyers in Indian equities and bonds this month on improving growth outlook.
A firming trend in the Asian region and higher opening in Europe also supported the uptrend.
In 30-BSE index components, 18 stocks ended higher.
Reliance Industries, Hindalco Industries Ltd, HDFC Ltdand Infosys helped the Sensex extend gains for fourth day.
The metal sector index gained the most by rising 3.87 per cent to 10,059.10 followed by realty index by 2.83 per cent to 1,468.40.
Consumer durable index rose by 2.62 per cent to 6,526.14 and auto index by 1.05 per cent to 13,280.27.
BSE Sensex hits sixth consecutive record high, marks best month since Oct
(Reuters) Indian shares edged up on Monday, hitting a sixth consecutive record high and posting their best monthly gain since October, as strong foreign buying sparked a rally in blue-chips, especially those dependant on the domestic economy.
The NSE index's 6.81 percent gain in March was its best performance since a 9.8 percent gain in October. For the quarter, the index rose 6.35 percent, a second consecutive rise since its 9.9 percent gain in the October-December period.
The record-setting rally has been sparked by heavy foreign buying - reaching a provisional $3.2 billion so far this month - as analysts cite expectations the opposition Bharatiya Janata Party would win elections set to conclude by mid-May, given its perception of having a more market-friendly stance.
Bets that India's economy will improve on the back of easing inflation have also played a key role. Interest-rate sensitive stocks such as banks and property developer DLF Ltd have been the top gainers this month.
The Reserve Bank of India is widely expected to hold interest rates on hold on Tuesday, pausing after tightening monetary policy by 75 bps since September.
"We will have to see whether the overseas fund flow will sustain. At this point in time, what we can say is markets should trade within a range and the undercurrent is positive," said Suresh Parmar, head, institutional equities at KJMC Capital Markets.
"The RBI policy is a non-event as it has already been discounted. Participants are waiting for the election outcome, which will have a major impact than tomorrow's policy announcement," he added.
The benchmark BSE index ended 0.21 percent higher at 22,386.27 points, after earlier hitting a record high at 22,467.21.
The broader NSE index gained 0.12 percent to 6,704.20 points, after earlier hitting a record high of 6,730.05.
The NSE rose 6.35 percent during the fiscal year ending on Monday, marking a third consecutive yearly gain.
Trading volumes were thin since bond and currency markets were closed for a local holiday.
Some banks extended gains even after posting a strong performance this month. State Bank of India rose 0.83 percent on Monday, bringing its gain in March to 24 percent.
Among lenders, Punjab National Bank was the best performer of the NSE this month with a 35 percent rally. On Monday it lost 0.85 percent.
Shares more closely tied to the domestic economy also outperformed this month, while exporters such as Tata Consultancy Services Ltd have fallen as a stronger rupee is seen denting earnings.
Cement maker ACC Ltd gained 2.73 percent on Monday and 26.67 percent for the month. Jaiprakash Associates surged 2.48 percent on Monday and 28.2 percent for the month.
Meanwhile, metals stocks rose on Monday, extending a rally this month on hopes a new government would ease new infrastructure projects and on easing concerns about China's economy. Hindalco Industries gained 8.29 percent, bringing its gain for the month to 34.6 percent.
However, capital goods companies saw some profit-taking. Larsen and Toubro lost 1.26 percent after gaining 14.6 percent till Friday and Bharat Heavy Electricals Ltd ended down 2.02 percent. BHEL gained 16.9 percent so far this month till Friday.
Also read: Malaysia Airlines Flight MH370: 20 planes, ships resume hunt west of Perth after more debris spotted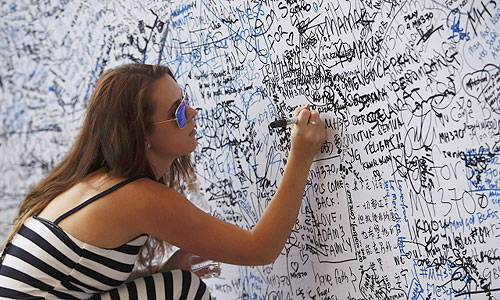 A woman writes on a wall dedicated to the passengers of the missing Malaysia Airlines flight MH370 during the the Malaysian F1 Grand Prix at Sepang outside Kuala Lumpur. (Reuters)