Size still matters in the fund management industry. At a time when most investors were redeeming their equity investments, the countrys top 10 fund houses managed to collect nearly 78% of the equity assets, added in the past one year. Over the last four quarters, equity assets added by the top 10 fund houses stood at Rs 14,431 crore compared with just Rs 3,999 crore added by the remaining 34 fund houses, data collated from Value Research shows.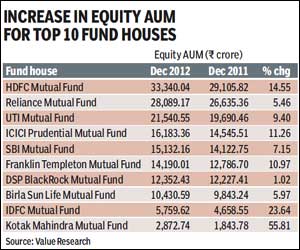 Investors seem to have matured over time and the inflows have mostly been diverted to the more established funds and ones that have a good track record over a long term, said Dhruva Chatterji, senior research analyst, Morningstar India.
For the quarter ended December 2012, the equity assets of the top 10 fund houses totalled nearly R1.6 lakh crore, or about 83.3% of the total equity asset base of R1.91 lakh crore. For the quarter ended December 2010, 80.3% of equity assets were cornered by the top 10 fund houses, indicating a 3% rise in the portion of equity assets garnered by these fund houses in the last two years.
Similarly, the equity asset base of the top five fund houses has increased to 57% for the quarter ended December 2012 from 54% at the end of December 2010.
The bigger fund houses seem to have benefited from the rally in benchmark indices in 2012. Everybody has lost net equity assets. The larger fund houses have seen a significant growth in their equity assets just by virtue of the rally in the equity market and because of a larger equity asset base, said the CEO of a small fund house. The Sensex gained more than 26% in the calendar year 2012.
Last year saw outflows of over R14,000 crore in equity schemes as investors booked small profits or made good their losses. These outflows have hurt the bigger fund houses as well, and not just the smaller ones, said Chatterji.
Another CEO of a small fund house pointed out that the distribution and marketing muscle of the bigger fund houses has worked in their favour.
The mutual fund industry has been struggling ever since entry loads were done away with in August 2009. Equity schemes have seen inflows in only thirteen months after the entry load ban was enforced.