India's maiden Mars Orbiter Mission (MOM) was successfully launched today with its polar rocket placing the Mars spacecraft precisely into an intended Earth orbit in its first-ever historic inter-planetary odyssey in a bid to join a select band of nations.
In a "new and complex mission design", ISRO's PSLV C 25 successfully injected the 1,350-kg 'Mangalyaan' Orbiter ('Mars craft' in Hindi) into the orbit around Earth some 44 minutes after a text book launch at 2.38 PM from the Satish Dhawan Space Centre here, marking the successful completion of the first stage of the Rs 450 crore mission.
Entering a new frontier in space technology, Indian Space Research Organisation(ISRO)'s mission is aimed at establishing India's capability to reach the Red Planet and would focus on looking for presence of methane, an indicator of life there.
"The PSLV C25 vehicle has placed the Mars Orbiter spacecraft very precisely into an elliptical orbit around Earth," ISRO chief K Radhakrishnan said after the launch.
This is the 25th flight of the Polar Satellite Launch Vehicle(PSLV) and "it has been a new and complex mission design to ensure that we would be able to move the MARS Orbiter spacecraft from the orbit of Earth to the orbit of MARS with minimum energy," he said from Mission Control Room.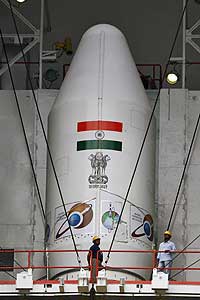 After going around Earth for 25 days in an elliptical orbit (perigee of 250 km and apogee of 23,500 km), the golden coloured probe, the size of a small car, would embark on a 10-month long voyage to Mars around 12.42 AM on December 1.
It is expected to reach the Red Planet's orbit by September 24 next and go around in an elliptical orbit (periapsis of 366 km and apo-apsis of 80,000 km).
"I am happy to say the spacecraft is in good health. It has done a task what had to be done," a visibly relieved and happy Radhakrishnan told reporters.
The rocket injected the satellite into Earth's orbit over South America, which was captured by ISRO's sea-borne terminals on board Shipping Corporation of India's vessels SCI Nalanda and SCI Yamuna in the South Pacific Ocean.
There was a data break of over 10 minutes as expected after burn-out of the third stage and the Mission Control Centre got signals on ignition of the fourth stage.
"The biggest challenge will be precisely navigating the spacecraft to Mars," said Radhakrishnan, adding, "We will know if we pass our examination on Sept. 24, 2014."
The robotic satellite, which is undertaking the over 200-million-km long journey to Mars, is equipped with five instruments, including a sensor to track methane or marsh gas - a possible sign of life - on Mars.
If all goes well and the satellite orbits the Red Planet, ISRO will become the fourth in the world after those of the US, Russia and Europe to undertake a successful Mars mission. The Mars missions of China and Japan have failed.
Though there have been 51 missions to Mars (excluding MOM) by a few countries, only 21 have been successful.
What follows in the next 10 days for the Indian Mars mission would be six crucial "orbit raising operations," in the coming days.
The PSLV rocket rose to the sky with a roar, spewing fire and smoke and soon it disappeared into the clouds, triggering cheers and hand claps at the Mission Control Room where hundreds of scientists stayed glued to the computer screens that displayed the progress in its flight path. There was a slight drizzle a couple of hours before the launch.
The tense--albeit expected--phase came soon after the third stage of the rocket was burned out, and the blip on the tracking screens disappeared. As Radhakrishnan had explained earlier, the rocket would be on a coasting phase for almost 28 minutes, 10 minutes of which will be a "total blind phase."
The ISRO chief said that "five beautiful instruments"-- Lyman Alpha Photometer (LAP), Methane Sensor for Mars (MSM), Mars Exospheric Neutral Composition Analyser (MENCA), Mars Colour Camera (MCC) and Thermal Infrared Imaging Spectrometer (TIS) on Mars orbiter were expected to beam important information for the Indian scientific community.
While LAP and MSM would help in atmospheric studies, MENCA would focus on studying particle environment. MCC and TIS would contribute to studying surface imaging of the red planet.
ISRO has made arrangements with NASA to use its Jet Propulsion Laboratory facilities at Goldstone (U.S.), Madrid (Spain) and Canberra (Australia) for communicating with this mission, while on the Martian journey.
The life of the Indian satellite is based on the need for extra fuel if any, since the Mars orbiter has to undergo certain course corrections over the 10-month long cruise.
Brushing aside criticism on the cost of the mission, Radhakrishnan, also the Space Department Secretary, said MOM is one of the "cheapest and low cost mission to Mars."
The mission would also explore Mars surface features, morphology, minerology and Martian atmosphere by indigenous scientific instruments.
US has also scheduled launch of a similar NASA-designed multi-corporation mission 'MAVEN' (Mars Atmosphere and Volatile EvolutioN) from Cape Canaveral Air Force Station, Florida on Nov 18 to study changes to the Martian atmosphere.
Both satellites would cruise towards the Red Planet together during their Martian journey and are expected to reach Mars orbit in September 2014.
DESTINATION MARS
A 299-day journey of 400 mn km at a cost of Rs 450 cr
LIFT-OFF: TODAY
PSLV-C25 lifts off from Satish Dhawan Space Centre, Sriharikota, at 2.38 pm. In 42-min first phase of the flight, Mangalyaan will be put into a 248 km-by-23,000 km elliptical Earth Parking Orbit.
DEPARTURE: NOV 30
Leaves Earth in a direction tangential to Earth's orbit around the Sun. Encounters Mars tangentially to its orbit around the Sun. Trans-Martian injection of December 1 is most crucial part of mission, says ISRO.
MARS ORBIT INSERTION: SEP 21, 2014
Spacecraft reaches Mars's sphere of influence in hyperbolic trajectory; expected to be captured into planned orbit when it reaches Mars Periapsis. Nine earlier Mars missions have failed at this stage.
Only 21 of the 51 attempted Mars missions have been successful. Attempts by Japan in 1999 and China in 2011 failed.
SOURCE: ISRO