The government on Thursday loosened its decades-old control over the sugar sector, offering a lifeline to the R80,000-crore industry. The Cabinet Committee on Economic Affairs approved a food ministry proposal seeking freedom to mills from supplying subsidised sugar for state-run welfare programmes known as levy sugar and scrapping the release order mechanism through which the government controls sugar sales in the open market, as suggested by a panel set up by Prime Minister Manmohan Singh last year.
Although total deregulation is still far, Thursdays decision marks the beginning of the unshackling of the industry, which bears the last vestiges of stringent and complex government controls. With political considerations weighing on sugarcane pricing and mills forced to supply subsidised sugar for welfare programmes, the sector has seen its fortunes wane.
The government will bear the entire subsidy burden on sugar supplies through the public distribution system, but will not raise the price at which the sweetener is sold through ration shops, food minister KV Thomas said after the CCEA meeting. He said the decision would have no bearing on retail sugar prices, adding that no hike in excise duty is approved. He added that states would have the flexibility to decide on the minimum distance norms for mills and they will be free to buy from open market for the PDS.
The subsidy burden on the government will rise from Rs 2,600 crore to roughly about Rs 5,300 crore, Thomas said.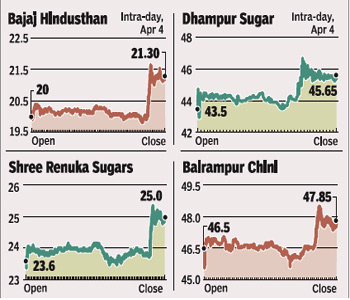 Decisions on some of the other suggestions of the panel headed by Prime Ministers Economic Advisory Council chairman C Rangarajan such as linking sugarcane rates to its by-products and de-reserving the cane area meant for each mill, are yet to be taken as these involve wide-scale consultations with producing states.
Shares of sugar companies jumped by up to 7.3% on the BSE, on a day when the Sensex fell to a four-month low on Thursday. Shares of Bajaj Hindusthan, Shree Renuka Sugars and Balrampur Chini Mills surged by 7.30%, 7.07% and 4.02% respectively.
Scrapping the levy burden will leave around Rs 3,000-3,500 crore more a year with the cash-starved sugar industry, but it will also raise the Centres food subsidy burden accordingly. At present, mills are mandated to sell 10% of their output to the government for the public distribution system at cheaper rates that cover just around 70% of their cost of production.
These decisions will help the industry achieve its potential growth of 20-25% per annum. Removal of the burden of levy sugar will give the industry an annual savings of Rs 3,000 crore, whereas abolition of regulated release mechanism will reduce inventories and ensure better cash flows. These much-awaited reforms will reduce the cost of production and improve liquidity with millers which, in turn, will ensure better and timely payment of cane price to farmers as also assure better quality sugar, at reasonable prices on a sustained basis, to the consumers, Indian Sugar Mills Association director-general Abinash Verma said.
Food and agriculture ministries had favoured an increase in the excise duty on sugar to offset the additional subsidy burden in case the government decided to abolish the levy burden for mills, although the finance ministry had reservations on the matter. At present, the excise duty on sugar is Rs 710 per tonne, and the Centre requires around 2.7 million tonnes of sugar a year for its welfare programmes.
However, some officials worry that any rise in excise duty would not just drive up sugar prices for consumers, but make it dearer ultimately for purchases for the governments welfare programmes as well.
At present, the government offers roughly Rs 19 per kg to mills for levy sugar, compared with the ex-factory price of around Rs 32. The Centre further subsidises sugar to supply to the poor through ration shops at Rs 13.50 per kg.
In October last year, the Rangarajan panel had suggested linking sugarcane price to the rates of its byproducts, and recommended that 70% of ex-mill prices of sugar and each of its three major by-products bagasse, molasses and press mud be paid to farmers for cane supplies. The benchmark price fixed by the Centre also called the fair and remunerative price be the minimum price for cane purchases, it added.
It had also recommended a stable export and import policy on sugar and appropriate tariff in the form of a moderate duty on imports and exports, not exceeding 5% to 10% ordinarily, as opposed to outright ban or quantitative restrictions, should be used to meet domestic requirements of sugar in an economically efficient manner.
Controls and regulations on sale, storage and cane price have led to a regular cycle of boom and bust in sugar production and also contributed to an inconsistent export policy. These have deprived Indian mills of the ability to be reliable suppliers in the export markets, dominated by Brazil and Thailand.