Broadening exposure to the infrastructure and retail segments, the banking industry reported a strong 21.75% year-on-year growth in non-food credit to Rs 33,18,072 crore for the fortnight ended July 16, 2010. This is slightly lower than the 22.28% y-o-y increase registered in the previous fortnight. But during the July 2 fortnight the credit had included loans to telcos for payments to the government.
Observed Shikha Sharma, managing director, & CEO, Axis Bank, Demand for money will continue to rise and apart from infrastructure sector, we could also see loan growth in infra-related sectors like cement and steel in the July-September quarter.
Speaking on the sidelines of a conference in Mumbai, OP Bhatt, chairman of State Bank of India, said, Telecom loans caused a one- time blip in the credit growth recorded in the first quarter of this year. Most loan book growth is coming from the retail space including home loans and auto loans. Our retail loan book is growing at 20-21% year-on-year while total credit growth so far is at 19%.
The banking industry should see credit growth this year in the range of 22-25%. At the end of the first quarter, monsoon is going to play significant role in credit-off take wherein we would see a rise in agricultural loans and retail loans, said M Venugopalan, managing director & CEO, Federal Bank. In corporate lending, banks have so far seen a rise in infrastructure, especially in power sector.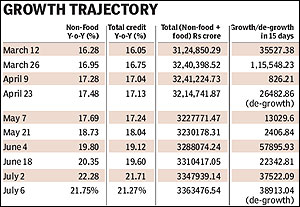 Deputy governor of the Reserve Bank of India Subir Gokarn feels even though demand for credit may get broad-based, banks have indicated that the current rate of expansion in credit was going to be maintained. According to the latest credit figures released by RBI, total credit by the bank grew at 21.27% y-o-y to Rs 33,63,476 crore.
The RBI in its first quarter review of credit and monetary policy has projected a non-food loan growth of 20% in 2010-11. Bankers, however, believe loan growth could be as high as 25% this year, given a relatively good monsoon spurs agricultural lending and retail loans.