Column : Time to say Jai Kisan, again
At a time when manufacturing exports shrank by 5.95% and services grew just 1.7% in the first 8 months of the year, Commission for Agricultural Costs and Prices' chief Ashok Gulati's projection that agriculture could touch $42 billion in FY13 has to come as a great relief—that's a 13.5% increase over FY12's mammoth $37 billion. That agriculture exports are doing well is obvious when you consider they increased more than 10 times from $3.5 billion in FY91 to $37.1 billion in FY12, growing at an annual rate of 13.6%. While agricultural imports have grown faster, from $0.7 billion to $17.2 billion, the agricultural trade surplus has increased to never-before levels of $20 billion. Even better, agriculture has become very globalised with the share of exports and imports to agri-GDP rising from around 5% in FY91 when economic reforms began to 18% in FY12 (see graphics). As a result, according to a paper by Gulati, along with Surbhi Jain and Anwarul Hoda, India's share of global agricultural exports rose from 0.8% in 1990 to 2.1% in 2011, a share which is higher than that of global merchandise exports—this rose from 0.6% to 1.7% in the same period.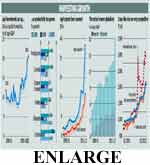 Think of the huge opportunity this gives the finance minister to fix his budget deficit (http://goo.gl/UwzI7)—exporting 10 million tonnes of wheat will fetch $3 billion to the exchequer. And, since FCI stores around 16-17 million tonnes of grain out in the open (covered by a tarpaulin of uneven
Fe Comment
Sridhar R | 05-Feb-2013
Reply | Forward
This article does the brilliant showcasing of the recent growth in the agri-business sector, and tells us how the private sector was instrumental in getting the agri sector back on the roads, as regards GDP contribution as well as gross exports. But I still dont understand what has it to do with the title "Jai Kisan". Because the 1991-2012 growth has also seen a manifold increase in farmer suicides as well as total and average debt among the farming community. So the net analysis should be that India has grown manifold as a net exporter of agri produce, triggered by Monsanto's and other seed companies through their Bt and Hybrids, and made possibly neat profits. And the farmer, more than usual lost with more debts and more suicides. From an economist point of view, discounting the fact that farmers - the back bone of the agri sector are in serious peril and worse than ever, i suppose its a great show of economic well being of a nation...Dying Farmers...Shining India...Great Planning...