Pharma stocks, which are already much celebrated on the bourses for being recession-proof, also proved to be policy shock-proof in 2012. Resilience of pharma scrips were tested mostly in the second part of the year on multiple fronts as uncertainty loomed over the fate of pricing policy and nature of FDI regime in the sector. Also, a Parliament panel jolted the government and industry alike with questioning the fundamentals of drug regulatory practices in the country.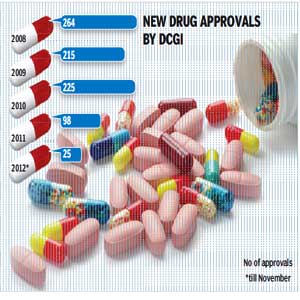 Amidst all this, BSE Healthcare Index outperformed Sensex by a clear margin for the third year in a row even as both indices hovered around similar levels during the closing of last year and the sensex itself surged around 25% over last 12 months. Even the volatility witnessed by pharma stocks during this period remained lower than Sensex.
The scathing parliamentary panel report which shamed many doctors by exposing how they had blindly copied instructions of pharma companies while recommending approval of new drugs in the country, also put the drug regulator in the dock for the choice of such medicos and approving many new drugs without the mandatory clinical trials. While the report on glaring gaps in drug regulation of the country pushed the government into investigation and introspection mode to fix the cracks and mend broken trust, it also had a negative fallout. The already understaffed and resource-crunched office of Drug Controller General of India, suffered a bout of low morale and went overcautious while giving green light to new drugs. This, coupled with a transition to set up a system of vetting new drugs, resulted in less than 25 new drugs getting clearances in 2012 (till November 2012). This is roughly one-fourth of the number of new drugs (98), which got clearance in 2011 and less than one-eighth of the number of new drugs which got approval in 2010 (225), 2009 (215) and 2008 (264). DG Shah, the secretary general of IPA, an industry association, feels much of this can be sorted if the government differentiates between new drugs (new chemical entity) and new generic drugs, and puts in place an easier regulatory pathway for the new generic drugs.
A constant negative assessment by the central drug regulator and ignoring the significant progress in its modernisation will have the unintended consequence of seriously damaging credibility, in turn gravely damaging the reputation of the national pharmaceutical industry as suppliers of safe, effective and quality medicines at affordable prices, Shah said.
However, the government made efforts to write clear laws on compensating clinical trial victims and fix accountability of ethical committees. It also enforced a recall mechanism to make recall of faulty drugs a transparent process. These efforts bore fruit when just a few days ago, the drug regulator passed an audit test of World Health Organization. This test, the drug regulator had flunked in 2009. Meanwhile, the finance ministry rendered freebies from pharma companies to doctors taxable for both parties.
Besides this, what kept pharma companies on tenterhooks was evolving shape of the new pharma pricing policy. A group of minister headed by agriculture minister Sharad Pawar brainstormed on the best method to keep prices of 348 essential drugs in check without compromising with their availability in the market. On the table, there were choices ranging from a market-based approach roughly covering just over one-fifth of the R65,000 crore domestic market to a cost-based mechanism spanning over 70% of the domestic market. The industry griped that besides inflicting heaps of potential losses, the cost-based system would mean lack of transparency, and bestow too much discretionary power in the hands of officials, which when used unscrupulously is prone to manipulation and red-tapism. This would steer them away from essential drugs to non-essential drugs and from domestic markets to overseas markets. The government took the warning seriously (as the industry had already made an exit from 27 of 74 essential drugs) and decided in favour of a market-based policy keeping span of control to 22%. Public health activists protested against the move, asserting this would push prices of drugs northwards and promote imprudent practices such as marketing of irrational combination drugs. Public health groups found a surprise supporter in the Supreme Court, which in October indicated its preference towards a continuation of the cost-based method. Later, resistance rose from within the government the finance ministry. Following the intervention of the prime ministers office (PMO), the GoM met the finance minister, made some finer changes and resolved mutual differences, sticking to a market-based formula. On pricing, I will say it is a good thing that the government has chosen to adopt a market-based mechanism as against a cost-based mechanism, thus, protecting industry interest to a large extent as also ensuring that drugs reach patients in a cost-effective manner, said Shakti Chakraborty, group president, India & CIS, Lupin.
Now that the public health groups are rolling up their sleeves to challenge the governments decision in Supreme Court, it remains to be seen, how many more twists unfold before India gets its drug pricing policy.
Meanwhile, the other area where confusion marred the sector was FDI regime. The year saw different government arms such as the finance ministry, department of industrial policy and promotion, pharma department and health ministry slugging it out in an inter-ministerial group (IMG) to give shape to the FDI policy that would keep investments flowing into the country without compromising with the availability and accessibility of drugs. Differences persisted till the end on whether select or all brownfield pharma deals should have to be routed through Foreign Investment Promotion Board, while consensus built up on some promises (such as to keep producing the essential drugs, not cut R&D spendings) that multinationals keen on acquiring Indian drug makers would have to make. Throughout this intense debate, even top bureaucrats were not fully clear on where does the verdict of another IMG (led by planning commission member Arun Maira, who suggested brownfield pharma deals should need competition commission of India clearance) ona similar subject stand. The PMO intervened once again to remind the sparring arms that FIPB clearance route is only an ad hoc arrangement till CCI is ready for this role.
The churn in FDI landscape at home didnt stop top domestic pharma companies from a shopping spree overseas. Sun Pharma, bought out two firms Dusa Pharma and URL Pharma (select portfolio) in the US, Dr Reddys acquired Dutch injectable Octoplus and Cipla offered to take over Cipla Medpro in South Africa. Add to this, latest estimatessuggest that exports at $13 billion may have crossed domestic sales of $12 billion. Investors echo this confidence with more genericisation across economies to lower healthcare costs, Indian drugmakers are amongst the best placed to conquer these markets.