The Zee Entertainment Enterprises (ZEEL) stock has risen 205% over the past one year with the company making news for several reasons. First, it was the restructuring in the group as a result of which the regional channels will now be housed in the flagship company. That apart, with a couple of its shows doing well, ZEEL has also been gaining audience share and has retained the number three slot in the Hindi general entertainment channel (GEC) space. Last week there was talk that the Essel group company was eyeing 9X, a Hindi GEC channel from INX Media, in a deal estimated in the range of Rs 60-70 crore.
What ZEEL is looking to gain from an additional presence in the GEC space, and that too from a channel that has a share of just 1%, is not immediately clear. But analysts point out that 9X has accumulated losses, in the region of Rs 600 crore and that might come in handy for ZEEL. That apart, 9X has a small library of films which again could be of value.
While ZEEL has managed to win gross rating points (GRPs) averaging 280 points in the past three months, it has not been able to dislodge Star Plus and Colors from the top two slots held by them. According to television audience measurement or TAM Media Research, the channel currently commands a 20% share in prime-time programming. A recent report by ICICI Securities says, ZEELs ratings have shown a sustained improvement and FMCG advertising spend continues to be high. As such, the research firm expects the company to turn in a robust advertising performance during March 2010 quarter.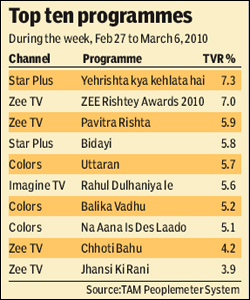 Atul Das, EVP, corporate strategy and business development, ZEEL will not disclose whether advertising rates have been upped but says viewership has been good and the inventory has been better utilised. The advertising revenues for the December quarter, which rose by about 1%, compared to a fall of 29% in the June 2010 quarter, reflect that things are looking up, he says.
Das adds, The positive year-on-year growth in advertising revenues is reflective of our product strength as well as the fact that market sentiments on ad spends have improved considerably compared to a few quarters ago. The company had mentioned during the analysts conference call that it might increase its advertising rates in the coming quarters.
According to a Pitch-Madison Media report, advertising spends this year are forecast to grow 13% with spends in the television space expected to grow by 15%. The increased spend by FMCG companies, telcos, who may launch 3G services and auto firms will propel growth, the report says. According to Morgan Stanley, ZEEL should gain from the strengthening television advertising in India, given the companys good programming and marketing initiatives. The management confirms that it plans to stay with its strategy of not spending large amounts on reality shows but instead continue to focus on the staple diet of soaps. Hardcore performance comes from soaps and serials where we have sticky viewership. Even the IPL Season III shouldnt dent our viewership, says Das. ZEEL continues to acquire filmsit recently picked up Love Aaj Kal. Thats something it needs today, say analysts, since competing channels have been airing big blockbuster films in a bid to lure audiences and push up ratings.
Meanwhile, subscription revenues, which stood at Rs 244 crore in the September 2009 quarter, increased to Rs 268 crore in the December 2009 quarter, an increase of 11%. While subscriptions in the home market from DTH are picking up, revenues from the international market have been somewhat weak following the economic crisis in some western countries, explains Das.
Morgan Stanley observes that the fast-rising penetration of DTH and digital cable platforms should start fetching substantial rewards for strong broadcasters like ZEEL in the next 4-6 quarters as average revenue per user (ARPUs) start to edge up. The firm has forecast a CAGR of 25.4% in subscription revenues 2010-2012 with the proportion of domestic digital subscription revenues growing from 23% in 2010 to 42% in 2012.
The restructuring of ZEEL and Zee news and the housing of the six regional channels within ZEEL (earlier with Zee News) has been well-received by analysts. Thats because ZNL is a fairly profitable business and the regional markets offer higher growth opportunities, given that advertisers are looking to penetrate deeper into the smaller towns. Among the regional markets, ZNL is the market leader in the Marathi space and is doing well in West Bengal too in spite of keen competition from Star Jalsha.
The profit after tax for the regional businesses in 2010-11 has been estimated at Rs 125 crore, which together with ZEELs estimated Rs 530 crore, should add up to Rs 655 crore. Says Chirag Negandhi of Enam Securities: We have assumed a 15% year-on-year growth in the profits for the regional channels in 2010-11. However, the swap ratio of 4 shares each of ZEEL in exchange for 19 shares of Zee News Limited, has cushioned ZEEL even in the worst case scenario of 5% year-on-year growth, in which case the incremental earnings per share would still be 9%. Negandhi believes that the acquisition would provide significant momentum to ZEELs mature bouquet as ZEELs distribution is leveraged to monetise the content of the regional channels.