At operating & net profit levels, mid-cap companies fare better than large-cap firms
Amid hopes of recovery in earnings, the third quarter numbers of India Inc seem to have turned cautious towards a likely faltering of this anticipation.
In the third quarter, while some companies saw dismal margins, what spooked the analysts is the muted volume growth, that fell to its new low since 2008 financial crisis.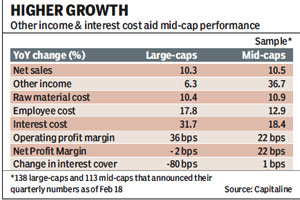 As per Credit Suisse, commentary from company managements failed to indicate any bottoming out during the quarter. The foreign brokerage argues slowdown is deepening and widening with so far the robust consumption also starting to weaken amid worsening infrastructure slowdown and sustained asset quality issues for the banks. In a recent note, it reduced its 2013-14 expected EPS for its universe by 2.3% and said that it sees about 8% to 9% downside to the current FY14 consensus Nifty EPS pegging a14.8% growth currently.
Even BofA ML, which reduced FY14 Sensex EPS by 2% to R1,395 said in a note, that there still lies a risk of further downgrades towards R1,350.
Kotak Institutional equities believes the underlying trend in volumes, profitability and non-performing loans for the banking space, do not signal a recovery. It observed that earnings of some of the growth stocks that have expanded on the back of liquidity, expectations of rate cut and reforms anticipations may have run their course while earnings upgrades, critical to drive the market further, are still not around the corner.
The result season showed a reversal to the collective improvement showed by the Indian companies during the quarter ending September 2012. Both, at the operating and at net profit levels, mid-cap companies fared better than large-caps compared to the same quarter last year despite a similarly muted revenue growth. Stronger growth in other income as well as lower growth in interest cost than that of large-caps helped them put up a better show. An analysis of 138 large-caps and 113 mid-cap companies, excluding those from financial and oil & gas domains, which have announced their December quarter results on or before Monday,