Prime Minister Narendra Modi, who met Russian President Vladimir Putin on Thursday as a part of his four-nation tour, spoke about the relations between both countries. PM Modi said that there are ups and downs in every relation but India and Russia have not seen any ups and downs in their decades-old relations. PM Modi said there was a special nature of trust and friendship in relations between both the countries and its people. He further said that both India and Russia believed in the benefit and happiness of everyone. The Prime Minister, who also visited the Piskarovskoye Cemetery in St Petersburg of Russia, remembered the sacrifices made by people of the country during the seize of Leningrad, especially the brother Russian President Vladimir Putin.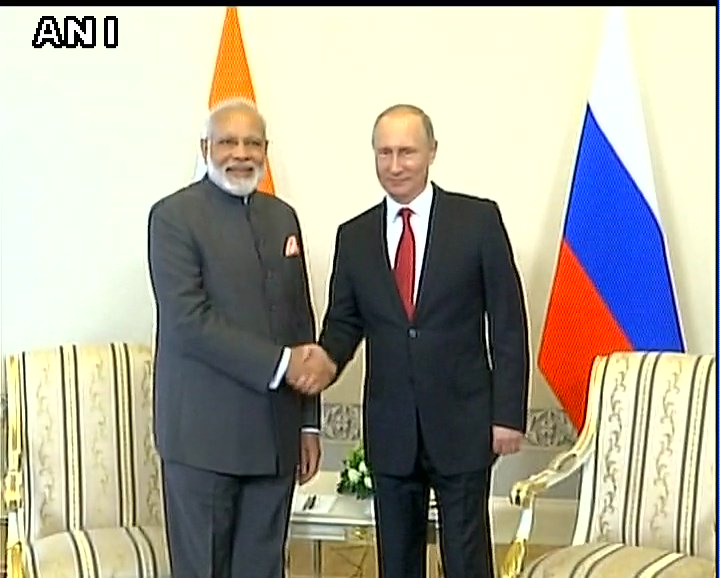 Russia is the third and the most important destination in PM Narendra Modi's 4 nation visit. The Prime Minister is scheduled to participate in the 18th India-Russia Annual Summit. Earlier, in a statement, the Prime Minister had informed that he would be conducting detailed talks with President Putin in order to take forward the Indo-Russian dialogue from the Goa summit in 2016. He had said, "In the first meeting of its kind, I will also have the opportunity to engage with Governors from various Russian regions to further broad base bilateral cooperation and more actively involve States/Regions and other diversified stakeholders".
Prime Minister Narendra Modi will also be visiting the world famous State Hermitage Museum and the Institute of Oriental Manuscripts. In a Facebook post, the PM had said, "I greatly look forward to my visit to St. Petersburg in this special year for the bilateral relationship as both countries celebrate the 70th Anniversary of our diplomatic relations".