Set to roll out in September this year, Indian Railways' Train 18, being manufactured by ICF Chennai, will be a huge leap for India in terms of the technology that goes into making trains. Train 18 trainsets will be unique in many ways – they will be the first self-propelled engine-less trains that will be made for inter-city semi high-speed travel. Train 18 trainsets will eventually replace Shatabdi Express chair cars on key routes. According to Sudhansu Mani, GM of Integral Coach Factory (ICF), Train 18 will create a new ecosystem under 'Make in India'. In an exclusive interview with Financial Express Online's Smriti Jain, Sudhanshu Mani says he is confident that Train 18 will will be comparable to other trainsets internationally: Edited excerpts:
What does making of Train 18 mean in terms of a technological leap for ICF and Indian Railways?
First of all – the concept of distributed power trainset for Mainline Express services is a completely new one for Indian Railways, even though such trains are used in EMUs for local trains – using it on Mainline express is altogether a different ball game. For adoption of such a new concept, the traction System (which is part of locomotive in conventional train) and power required for the train lighting and air conditioning (which is supplied by separate generator power cars in LHB trains) are to be modularized and distributed across the trainset as underslung (below the chasis of the coaches) which requires development of all together new design of the coach, bogies and electric equipment. The new design is being carried out by ICF with the help of consultants without any technology transfer, which was carried out in earlier cases of LHB coaches, EMD locomotives etc.
Secondly, the vendor base who is supplying various items for the Train-18 have developed design capabilities, whereas earlier they were dependent on already developed designs. This will help in making best-in-class products in India rather than solely importing.
Thirdly, user (passenger) experience and safety have been given more emphasis and the feedback of the first prototype can help Indian Railways to decide on further adaption of train set concept.
Further, aero-dynamic front-end, automatic sliding foot steps, fully sealed gangways with exterior fairings between the coaches, improved air conditioning, electronic brake control system, new bogie design with fully suspended traction motors etc. are all new technologies being introduced for the first time. Building such trainsets with major chunk of indigenous efforts will build the confidence levels so that such new technological advancements can be carried out in future. It is like development of inhouse domain knowledge.
How will these semi-high speed train sets compare to those that run internationally?
This would be comparable to semi-high speed trains that run internationally. There will be 2-3 features which we won't have in Train 18, which we have included in our Train 20 project. The primary feature that Train 20 has is that it is an aluminium body train set and not a stainless steel body trainset. Aluminium is aesthetically better, the exterior is much better than stainless steel. It is light weight so it is more energy efficient. In terms of the life of the coaches, the experience is that over a long period of time there is no deterioration.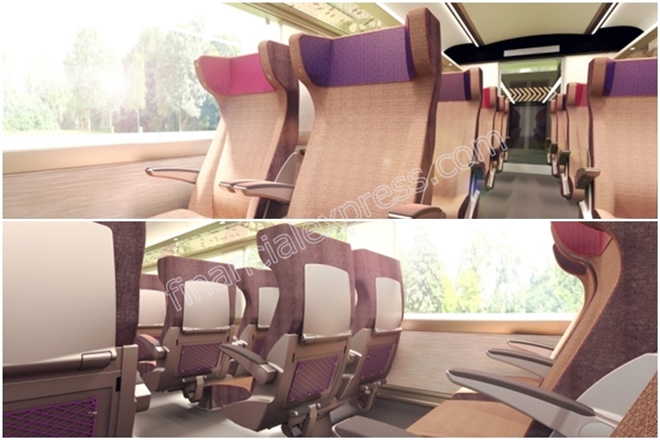 Is there any particular route that has been decided for Train 18?
The route will be decided by the Railway Board. After we roll it out it will given to RDSO for testing and validation. After the testing is complete and the train set is certified, then the Railway Board will decide on the route.
How many train sets of the likes of Train 18 are you planning to roll out?
At this point we are planning to make two of them but the second one will be made only after certification of the first one. Based on the success of this we will build many many more.
Realistically speaking do you see Train 18 rolling out for passengers by the end of 2018?
This is a prestigious project and I would expect that RDSO would support us fully and do the trials and validation very quickly within 2-3 months.
What is the percentage of indigenous components in Train 18?
Train 18 is by and large indigenous. There are imported components but I don't think they are more than 20%.
Is there any average cost of manufacturing that you are looking to peg it at?
When we average it out over two train sets and we set aside the development cost, we are expecting it to cost around Rs 6 crore per train set coach, which is around 60% of the cost for such train sets globally. In the long-term the cost should certainly come between Rs 5-6 crore, more close to Rs 5 crore than Rs 6 crore.