If persistently high inflation has dominated economic policy debates on the Indian economy for much of the past eight years that the UPA government has been at the helm of affairs, it?s not without a reason.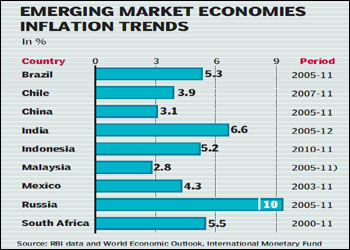 Among the major developing nations of the world, India is right on top in the inflation charts, with an average inflation of close to 7% estimated during the seven years from 2005-12. Russia is the only major emerging economy that has seen higher price levels than India?s inflation trend rate for the same period.
Inflation rate refers to a general rise in prices measured against a standard level of purchasing power. High inflation generally signifies that too much money is chasing too few goods, essentially implying that the demand for goods and services is much higher than the supply, resulting in a surge in the prices of goods and services. India?s latest headline inflation estimate, based on the annual wholesale price index-based rate, was recorded at 7.55% in May 2012.
For policymakers, the worrying bit about the current bout of inflation is that it continues to stay above the comfort zone despite the fact that the Reserve Bank of India (RBI) has been easily the most aggressive Asian central bank.
It cut interest rates vigorously in the aftermath of the 2008 global meltdown and has raised rates with similar aggression when inflationary pressures became unhinged.
But inflation in India has been a persistent problem, clearly the result of an overheating economy. According to economists, the Indian economy?s scorching pace of growth in the mid of the last decade propelled the economy well beyond its ?potential output frontier?.
Though growth has slowed, it is now merely at its potential output frontier. While massive investments to ease the supply side problem are needed to sort out the problems, the government appears to have limited fiscal space to play an aggressive role in any supply side easing.
So to pump prime the economy, fiscal spending on subsidies will have to be reined in and the savings routed into infrastructure, agriculture, human resource development and so on. Also, private investments will have to be catalysed in large amounts and foreign capital investments will have to supplement the domestic private partners in boosting private investment in the economy. In fact, earlier in June, RBI governor D Subbarao had candidly admitted that India?s ?non-inflationary economic growth? was 7%. Simply put, in order to grow beyond 7% without stoking high inflation, the government has to take steps to ease supply-side constraints like infrastructure bottlenecks, food production deficiency, labour supply shortages and so on.