The road transport & highways ministry has lowered the ambitious target of awarding highway construction projects from 12,000 km to 7,000 km by June this year.
The development comes within three months of extending the deadline from March to June to achieve the target.
Till December 2009, the National Highways Authority of India (NHAI), which acts as the nodal agency for bidding out highway development projects, could manage to award projects for development of only 2,100-km highways. The Planning Commission expects that the authority would be able to award only 3,794-km projects by March 31 this year.
?By June this year, we will award 7,000 km of new (highway construction) projects. What we would do by June has not been done by the government in during any Five-Year Plan,? road transport & highways minister Kamal Nath said during the annual general meeting of industry chamber Federation of Indian Chambers of Commerce and Industry (Ficci) on Saturday.
In November last year, Nath extended the deadline for awarding of 124 road projects to June next year. ?We have set a deadline to award around 12,000 km of road projects by March 2010. But, that is not happening. The award process for all the projects will be completed by June next year,? Nath had said.
The minister has also revised the target of constructing 20 km of highway per day from March to June. ?The target (of 20 km a day) will be achieved in June. We lost December and January due to dense fog. We are currently at 10 km per day,? Nath said earlier this month.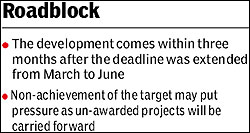 The non-achievement of the original target is likely to put pressure on the highway development goal for 2010-11, as the un-awarded projects would be carried forward.
As per the Economic Survey 2009-10, the delay in awarding of projects was caused by the new procedure for approval of public-private-partnership projects, modifications in the model concession agreements, new request for qualification process and new MCA conditions. Lingering doubts of lenders on interpretation of many provisions of the new MCAs and inadequate availability of long-term debt funds were cited as other reasons.
Earlier this fiscal, the Planning Commission criticised the road ministry for the delay and suggested that it should set ?realistic? targets, which Nath later rebutted.