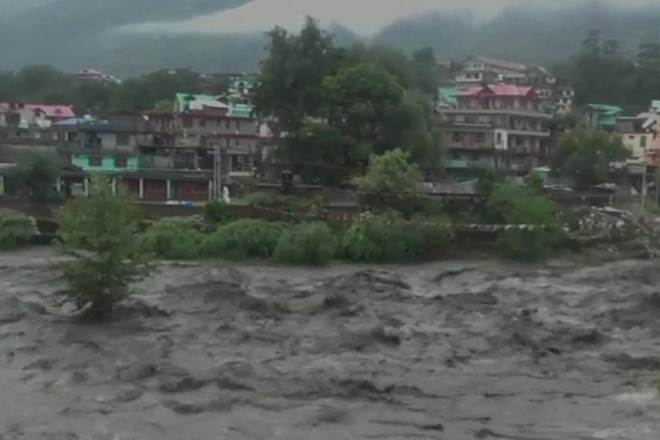 The Army has been called to rescue two persons stranded due to flash floods in Himachal Pradesh's Kangra district, an official said Monday. They are stranded at Saurabh Van Vihar, a park, in Palampur. Two scooters and a car were washed away in the flash floods in the area, he said.
Normal life is hit since Saturday due to heavy rains in the mid hills and plains, and snowfall in the upper hills of Himachal Pradesh.  "Two persons are stuck there. Fire brigade and rescue teams are at the spot. They are waiting for the water level to recede.  "However, Monday morning, the Kangra district administration made a requisition to the Army to rescue them," the official said.
On Sunday, as many as 19 people stranded at Dobi in Kullu district after flash floods and heavy rains were rescued by deploying an Indian Air Force chopper.  Schools in most districts were closed Monday as a precautionary measure. People residing in low-lying areas, especially in Kangra, Chamba and Mandi districts, are being evacuated, officials said. They are also being asked to remain alert due to rising water levels in rivers and streams, they said.
In Chamba, the Ravi river is still flowing at a dangerous level and people are being evacuated from low-lying areas by the administration since Sunday, Superintendent of Police (SP) Monica Bhutunguru said. Traffic movement is affected in the district and minor rescue operations are underway at various locations, she said, adding that the Sach Pass in Chamba was closed due to heavy snowfall.
The SP said a number of roads including those at Kanddu, Dampu, Udaipur Nullah, Karian, Bhatalwan and Raathghat, Chamba Banikhet and Chamba Tissa, were blocked due to fallen trees. She said roads at Goli Bally, the Banikhet national highway, the Dalhousie to Subhash Chowk route and the Court Road were also blocked.
The Dudiyar Bangla national highway and several other roads in Chamba are blocked due to heavy rains, the SP said.   Kangra Deputy Commissioner Sandeep Kumar has alerted officials and people residing in low-lying areas that water would be released from the Pandoh reservoir as per a message from his counterpart in Mandi.
Issuing a flood warning, the Bhakra Beas Management Board (BBMB) said excess water from the Pong Dam would be released due to high-pattern inflows in the Pong reservoir due to heavy rain in catchment areas. The Met department has predicted heavy rains in middle hills, plains and snowfall in upper hills in the state till Monday.