Overview
In the era of Smart Manufacturing - 'Industry 4.0' or 'Intelligent Factory', the power of technology is being realised across the industrial world and radically transforming the manufacturing ecosystem. The recent innovations and breakthroughs across industries are bridging digital goals for the next generation of manufacturing excellence.
From big data to cloud computing, the benefits of modern technologies are helping manufacturers enhance their speed of operations, streamline the manufacturing process, reduce human intervention and minimise errors in the process. Besides, technologies such as artificial intelligence, machine learning and additive manufacturing are helping them ensure efficiency, reduce waste and increase plant productivity and overall profitability.
Clearly, manufacturers can't afford to ignore these technologies and the ones who want to stay relevant and gain a competitive edge are expected to make significant investments in this area. The Indian Government, in line with its "Make in India" objective, has set an ambitious target of increasing the contribution of the manufacturing sector to 25% of GDP by 2025. The country has the potential to become a global manufacturing hub and by 2030, and it can add more than US$ 500 billion annually to the global economy.
To achieve this goal, Indian manufacturers will have to speed up their plans for factory automation and rebuild human resources to drive growth. Financial Express' Future Factory 4.0 is a step in that direction. The event will unfold the value of Industry 4.0 through next generation smart technologies in harnessing the benefits of AI, Robotics, IoT, Digital Twin, Additive Manufacturing and other futuristic technologies.
The inaugural edition of Future Factory 4.0 will bring together business leaders in manufacturing, policymakers, industry experts and veterans under one roof to brainstorm and create an independent ecosystem in making India the "factory to the world". The event would connect key stakeholders across the entire spectrum of manufacturing including automotive, defence, electronics, MSME and provide a platform to shape the Indian manufacturing agenda in 2023 and beyond.
Read More ...
INDUSTRIES

IN FOCUS

Automotive and Transportation

Healthcare, Life-Science and Medicines

Aviation, Aerospace & Defence

Industrial Equipment

Infrastructure, Energy & Material

Electronics and Semiconductors
Who Should
Attend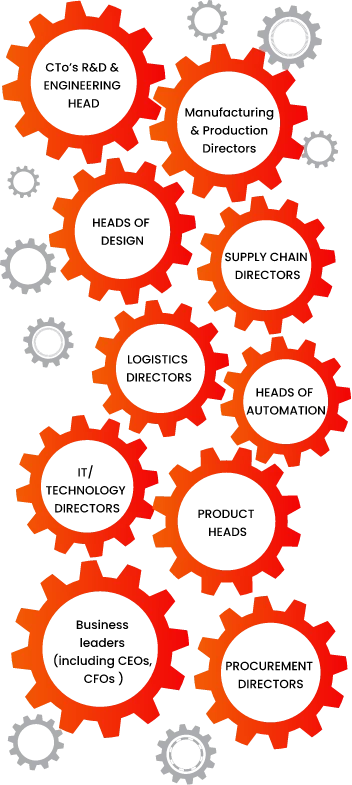 Why
Attend

Consult with industry experts before you make equipment decisions.

Network with attendees and see how they are addressing challenges.
Take back actionable advice, enhancing the value of your team and put them on the fast track to success.

Equip yourself with lots of information to help decide when/if you should invest in new technology, and how to take the next steps.
Network with peers, customers, and potential new clients.

Discover what the future has in store for you and your business.
Contact Us
For Partnership Opportunity
For Speaking Opportunity

Riya Chopra
For Delegation

Vibhav Sharma