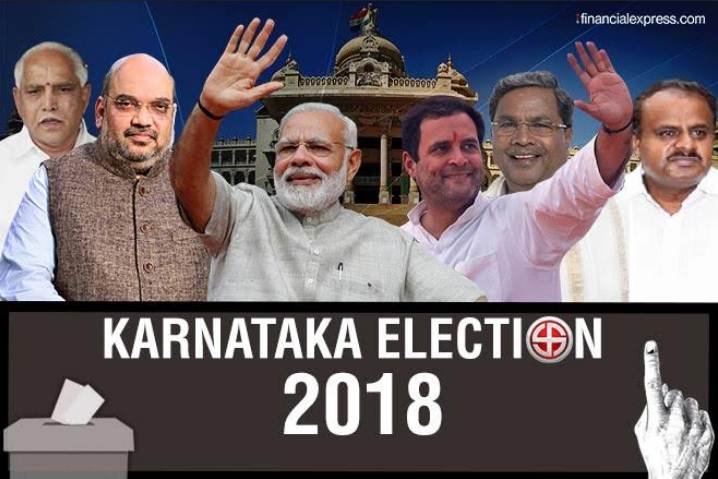 Karnataka elections 2018 on Tuesday threw up an unexpected surprise as none of the two top parties – Congress and the BJP – could manage to secure a majority. Led by Chief Minister Siddaramaiah, the Congress was in for the biggest shock as it could only manage to win 78 seats. PM Narendra Modi-led Bharatiya Janata Party was also not the happiest flock, as it fell short of majority in the state which didn't send many alliable members to the House. HD Kumaraswamy-led Janata Dal (Secular), which was touted to be as the kingmaker in the elections, surprisingly came closest to holding the CM post and even staked claim to form the government.
Here's a timeline of the events that unfolded since Tuesday morning:
Tuesday, May 15
– The first trends started coming in at around 8 am, Tuesday. Initially, it appeared that the BJP was set to return to power after a five-year hiatus with a resounding majority. However, as the day progressed, it appeared the party will fall a few seats short of the 112 needed to form the government.
– The Congress, which made tall claims of returning to the power, was in for the biggest shock. The Siddaramaiah-led party won 78 seats, down from 122 in the last elections.
– Former Prime Minister HD Deve Gowda's Janata Dal (Secular) won 37 seats, and surprisingly, came to a position where it seemed closest to forming the government.
– At around 3 PM, outgoing Chief Minister Siddaramaiah addressed a meeting and announced Congress' unconditional support to JD(S). "We have all together discussed and decided this…. This is the opinion of the All India Congress party. Congress will support JD(S) because there is a hung Assembly situation here as no party has been given clear majority by the people," he told reporters.
– Miffed by Congress' move, BJP's chief ministerial candidate B S Yeddyurappa accused Congress of trying to win power unfairly. The Karnataka BJP President said he would stake claim to form the government. He said the people of Karnataka had rejected the Siddaramaiah government "lock, stock and barrel".
– Meanwhile, PM Narendra Modi took to Twitter and thanked people of Karnataka for supporting the BJP. "I thank my sisters and brothers of Karnataka for steadfastly supporting the BJP's development agenda and making BJP the single largest party in the state. I salute the stupendous work of @BJP4Karnataka (state party unit) karyakartas who toiled round the clock and worked for the party, (sic)" he said in a tweet.
– The JD(S) soon accepted the offer made by Congress. The party announced that HD Deve Gowda's son, HD Kumaraswamy, will be party's chief minister nominee.
– Soon, both BJP and Congress-JD(S) flocks rushed to meet Governor Vajubhai Vala. Both the sides met the governor and staked claim to power.
– Now, all eyes are now on Governor Vajubhai Vala who will have to decide whether to call BJP, the single largest winner of seats, to form the government or go with the JD(S)-Congress combine, which together have a clear majority in the 224-member Assembly.
Wednesday, May 16
– On Wednesday, JD(S) MLAs Raja Venkatappa Nayaka and Venkata Rao Nadagouda were missing from the JD(S) legislative party meeting which is going on in a hotel in Bengaluru.
– Some TV reports said that some of the Congress and JD(S) MLAs were not happy with the alliance.
– On the other hand, Congress leader MB Patil said that 6 BJP MLAs are in touch with them.
– Outgoing Karnataka Chief Minister Siddaramaiah said the Congress-JD(S) combine has 117 MLAs and Governor Vajubhai Vala has to give them an opportunity to form government.
– Siddaramaiah accuses Prime Minister Narendra Modi of encouraging horse-trading.
– Union minister Prakash Javadekar dismisses as "imaginary" JD(S) leader H D Kumaraswamy's charge that BJP was offering Rs 100 crore to lure its MLAs.
– JD(S) leader H D Kumaraswamy claims that BJP is trying to "bribe" its way to power through "horsetrading" after falling short of majority, alleges that his party's MLAs are being offered Rs 100 crore to break away.
– H D Kumaraswamy is elected leader of JD(S) legislature party
– B S Yeddyurappa is elected leader of BJP legislature party, meets governor and gives letter about his unanimous election to the post, says he should be asked to take oath as chief minister.