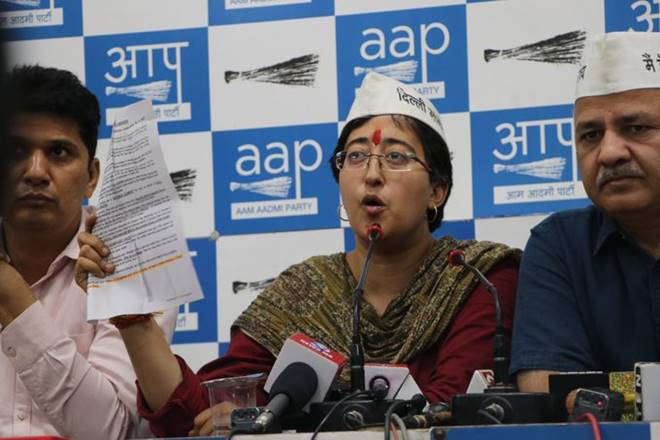 Atishi derogatory pamphlet: The fight for East Delhi Lok Sabha constituency took a rather ugly turn on Thursday when Aam Aadmi Party candidate Atishi accused her opponent Bharatiya Janata Party's Gautam Gambhir of distributing pamphlet containing derogatory remarks about her. Atishi alleged that the pamphlet also contained disparaging statements about AAP national convener and Delhi CM Arvind Kejriwal and Delhi minister Manish Sisodia.
Lok Sabha Election 2019: Full Coverage
Seated beside Sisodia, Atishi flashed the purported pamphlet during a press conference in New Delhi "I just want to ask one question to Gautam Gambhir – how low he would stoop? If he can do such thing to defeat a woman like me, how would he protect women of his constituency if he wins the election?" Atishi said as she broke down during the presser.
"मेरा गंभीर जी से बस एक यही सवाल है के अगर वो मेरे जैसी एक सशक्त महिला को हराने के लिए इतना गिर सकते तो सांसद बनने के बाद वो अपने क्षेत्र की महिलाओं को कैसे सुरक्षित करेंगे।" – @AtishiAAP pic.twitter.com/SWAb1xyUfh

— AAP (@AamAadmiParty) May 9, 2019
Manish Sisodia said that the language used in the pamphlet was so abusive that anyone would feel ashamed while reading it.
"We would clapped for Gambhir when he used to bash opponents with fours and sixes while playing for India but we never in our worst dream, had thought that this man would stoop this low to win an election," Sisodia added.
Arvind Kejriwal also expressed solidarity with Atishi and said that the incident has exposed the 'mentality' of the people in Opposition.
"Never imagined Gautam Gambhir to stoop so low. How can women expect safety if people with such mentality are voted in? Atishi, stay strong. I can imagine how difficult it must be for you. It is precisely this kind of forces we have to fight against," Kejriwal tweeted.
This is not for the first time that Atishi has made allegations against Gautam Gambhir. She had earlier claimed that the cricketer-turned-politician is enrolled as a voter from two Delhi Assembly segments violating the Representation of the People Act.
Will withdraw my candidature if charges are proved: Gambhir
Coming down hard on Kejriwal over the charges levelled against him, Gautam Gambhir said he will withdraw his candidature if is established that the pamphlets were being distributed by him. Gambhir deplored Kejriwal for 'outraging' the modesty of his own colleague.
"I abhor your act of outraging a woman's modesty Arvind Kejriwal and that too your own colleague. And all this for winning elections? You are filth Mr CM and someone needs your very own झाड़ू to clean your dirty mind," Gambhir said in a series of tweets.
"My Challenge no.2 @ArvindKejriwal @AtishiAAP I declare that if its proven that I did it, I will withdraw my candidature right now. If not, will u quit politics?" he added.
Voting on all seven Lok Sabha seats of Delhi is scheduled to be held on May 12. Counting of votes will be done on May 23.