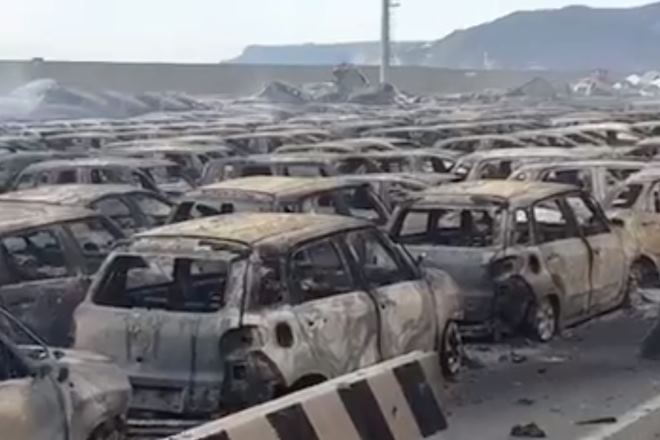 After major flooding at an Italian port, a fire was started that engulfed two car parks that had hundreds of cars awaiting to be exported. Local media Savonanews reported that the port of Savona, Liguria was heavily flooded the night before. The reason behind the fire is said to be salt water that led to car batteries exploding and the cars catching fire in the early hours of Tuesday morning. Car lovers may want to look away as the fire creates a scene something out of a movie set in the post-apocalyptic era.
The sea rose on Monday evening and flooded the north-western Italian city, including two parking areas in the city port. They were filled with hundreds of export-ready cars, including, according to local media, brand-new Maserati luxury vehicles.
Local media has suggested that most of the cars that were burnt were Maserati as several hundred of them stored at the port ready for export to the Middle East. The fire spread and lorries & other vehicles parked nearby were also caught in the blaze.
This is reportedly the second major fire at the same port in a week. The Port Authority building was completely destroyed after a fire broke out on 23rd October. There were no reports of death or injury but it 14 teams of firefighters to put out the fire.
The authorities have shut the port down since occasional explosions are still continuing in the port area, which is enveloped in smoke. Four teams of firefighters are reportedly still on the scene and there are no reported injuries.
Italy has been lashed by storms lately with strong winds, rain and high waves that affected most of the country, leaving nine people dead and one missing. The region of Liguria remains under red alert today with more extreme weather expected.