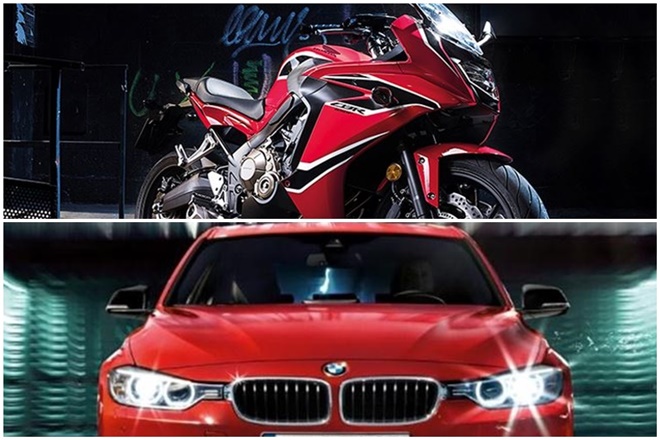 Valentine's Day is quite ridiculously overrated. If it is meant to celebrate love, every day can be Valentine's Day. And I have another problem with this day, why is it only portrayed as a day for couples, the boyfriends and girlfriends, the we're-getting-back-togethers, the 'perfect' proposals? You want to express love, how about expressing it for your mum and dad? Or getting a dog-friendly cake baked for your dog? Just saying. Whatever the case is like for you, one thing is certain, there will be some presents your Valentine will be expecting. We can't help you if your Valentine is interested in makeup or jewellery or expensive vapes. But if he/she happens to be a car enthusiast or a motorcyclist, we've got some ideas.
Luxury car rental
This one's an idea which will work even if your isn't all that much of a motoring enthusiast. Who doesn't want to be driven about in a fancy and uber luxurious car? It can be a seriously expensive to buy one of those, but you can still experience it by renting one out. For example, Mercedes-Benz CLA can be rented for about Rs 400 per hour, plus fuel and an additional charge if you exceed the prescribed the limit of kilometres.
Track day
A day on the race track will leave your Valentine smiling for days. Even if you don't want to race, it will be great fun speeding unrestricted in a controlled environment. Buddh International Circuit at Greater Noida in UP offers enthusiasts a chance to drive on the track for Rs 8000-9000 in your own car. If you want to drive something like an Audi R8 or a Mercedes-Benz AMG, you'll have to loosen your wallet much more, something close to Rs 75,000. You could also take your motorcycle to the race track and go speeding and leaning all you want.
Motorcycle gear
Speaking of motorcycles, motorcyclists get really excited about buying new gear. One, it adds to safety and two, it looks really cool. Considering that a substantial amount of money is spent by motorcyclists on gear, they will appreciated a new helmet or gloves or boots. While there are very many expensive options in the market, but a quality helmet can be bought at prices starting Rs 3800, and gloves at as low as Rs 500, or a jacket at about Rs 4000. Well, if you want an even better product, the Internet is full of options.
Gaming console
Buy them a Play Station or Xbox and earn your Valentine's respect. If they are into gaming, nothing's a better present, and if they own one already – a more cost effective deal will be buying them a new game's disc or additional accessories such as a steering wheel or VR set (virtual reality). For perspective, 1TB PS4 console can set you back about Rs 30,000 and game discs cost about between Rs 1,500 to Rs 5,000. They are easily available at online stores or Sony stores.
Clothing and accessories from popular motoring brands
Motoring enthusiast and fashion conscious, if your Valentines is such a combination, you could present them with a clothes and accessories from some of the popular car and motorcycle brands. For example, a Ducati phone cover or a Ferrari Scuderia bag or a Ferrari watch or Mercedes-AMG espresso cups. If they're a MotoGP fan, branded merchandise will be a great hit! You could also opt for driving shoes offered by Puma, in collaboration with Ferrari, BMW, Mercedes-Benz AMG Petronas and Ducati. And then, there's also car perfumes or bobbleheads to place on the dash.
Scale models
You could ask anyone and everyone of what their dream car is, and they will most definitely have an answer, even if they aren't a motoring enthusiast. It could be a Lamborghini Miura, Ferrari F40, Jaguar E-Type or if they're in motorcycles, it could be the BMW S1000RR HP4 or a cruiser. While buying one those may be darn right difficult, buying a scale model won't be that bad.