Indian-arm of the Japanese automaker Toyota Kirloskar is now busy with dispatches of its new Toyota Yaris sedan and the company claims it to be a runaway success with the kind of response it has received ever since the announcement of the price. Toyota Yaris is available only in petrol variants and takes on the likes of Maruti Suzuki Ciaz, Honda City and Hyundai Verna. "Anytime was a good time to be in this mid-size segment, the car buyers in India are now very matured and there is no longer a first mover advantage in the market," says Shekar Viswanathan, Vice Chairman & Whole-time Director, Toyota Kirloskar Motor.
Toyota Yaris available only in Petrol: Reasons explained
Toyota Yaris is the company's fourth sedan in its India line-up and the company does not plan to bring in the diesel version on the Toyota Yaris anytime soon. With the difference in the price of petrol and diesel being at an all-time low, Toyota believes it's the right time to push petrol powered cars. "The move towards petrol will happen only from a cost of ownership perspective. So let's say if the government subsidizes diesel heavily, then the shift towards petrol will never happen. In the past the government has done that but going forward, I doubt the government will have a financial levy to do it again." Viswanathan further added.
Currently, many oil refineries are configured to manufacture more diesel than petrol and this will not change overnight, There are huge costs involved and with all oil companies investing in rolling out BS-VI fuel, the move to petrol will take some time. Toyota believes there will be a gradual shift to petrol cars going forward. "I don't think we will bring in diesel on Toyota Yaris. If the price of petrol and diesel widens we might consider it but as of now we don't plan to bring in a diesel engine on Yaris"
Toyota was also quick to bring in a powerful 2.7L petrol engine during the infamous diesel engine (above 2L) ban in Delhi/NCR region. However, demand for petrol variants of Toyota Fortuner and Toyota Innova Crysta has been lacklustre. Toyota Innova Crysta is used as a fleet vehicle and that's when the cost of economy kicks in so it is not the end of the road for diesel-powered cars.
For Toyota's future product planning and strategy, a key variable is the price of diesel in the country. "Going forward these variables will increase, it will further include the cost of electricity, availability of electricity for charging purposes and we can opt for CNG and the hydrogen fuel cell. If that comes then the whole dynamics will change" added Shekar.
Hybrids and EVs in India:
Globally, Toyota is a pioneer in hybrids and electric vehicles. Toyota's vision is that by 2050 the world will have a healthy mix of Electric Vehicles (EVs), Hybrids and Hydrogen vehicles. Viswanathan says that its a very dynamic situation and it might also be right to say that CNG, Biofuels and petrol/ diesel will continue to have some share of the market.
"Our suggestion to the government is to promote all the technologies that reduce pollution and to tax vehicles based on their emissions. More the pollution, more the tax and now emissions are measurable."
Toyota is also working with multiple state governments to push its hybrid plans in India. The company recently signed a MoU with the Government of Andhra Pradesh to start the feasibility study towards the introduction of Prius PHEV and Small EV Commuter. These different state-level policies cover a range of incentives and express the commitment of the state government to provide charging infrastructure. Toyota says it's not necessary for a central EV policy overarching these individual States.
"However, a National Level EV policy will certainly help. For example, charging protocol is something to be decided at the central level and then handed over to the State governments to maintain homogeneity among EV makers to utilise the charging infrastructure efficiently and make it more viable," he added.
Toyota bets on hybrid cars in India:
Toyota is also betting big on hybrid cars in India and is looking to bring in some of its existing global hybrid cars in India in the mass segment. Shekar Viswanathan said, "We definitely want hybrid vehicles in India as we see that as the quickest way to get to electric vehicles. The concept of leapfrogging which is been doubted by some advisors to the government is misplaced. We need to go hybrid for some distance before adopting EVs. As you do this, there will be other technologies that will come in. For instance, Solid-state batteries, hydrogen cell, these things will happen. The pace at which this happens is what is at stake."
Toyota will bring in mass hybrid cars in India but did not specify any timelines. The company says that it has the technologies globally but to be assigned particularly for the Indian market takes longer and has a lot of parameters to be considered. Globally, the company has a lot markets to choose from and as India improves its infrastructure and taxation policy, the company will start to bring in these eco-friendly vehicles to India.
The company further affirmed that in current form it is very complicated to convert its existing petrol powered cars to hybrids. "We may bring in hybrids from our global portfolio on sale in other markets but that depends on how the government reacts to our requests for rationalising hybrid tax duty structure," said Shekar Viswanathan.
Toyota on National EV Policy:
It is very difficult for Niti Aayog or any carmaker to assure that EVs is the only way forward or to say EVs will never succeed. The technology is very dynamic but the way it will pan out is very uncertain. Toyota says that incentives or tax policy are not the only way to promote Electric vehicles in India. Simple things like preferred car parking for EVs and special zones where only EVs are allowed will help to promote the overall ecosystem.
Toyota's partnership with Suzuki:
Recently Toyota and Suzuki partnered in India to develop new vehicles and also venture in EVs. Globally, Toyota also partners with the likes of Mazda and Daihatsu. Shekar Viswanathan believes that these alliances are important and helps companies lower the cost of a technology and deploy them over a larger volume of vehicles. "For one company to develop the technology and recover the cost of development is not enough. It's better to share technology with others and they will at least pay for the technology that will help recover the development cost" he added.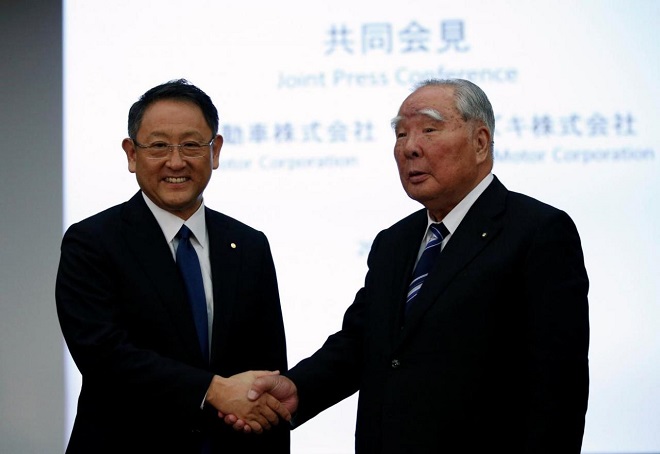 Toyota Kirloskar Motor does not plan to bring a sub-compact or a compact SUV to India. The company says it is on track to roll out its BS-VI compliant vehicles in India. It is very confident on the availability of BSVI compliant fuel in India by April 2020. However, the cost of the cars will go up with being BSVI compliant and the company will pass down the burden of new costs to its customers. While Toyota did not officially confirm this, it's widely known that under the partnership Suzuki will provide Toyota with two vehicles in return from one, which is expected to be slightly more premium.