Dogs love going on long drives and it is always a cute site to see them peeking through the window trying to avoid its owner and enjoying the wind outside. It is indeed very important to make your car dog-friendly not just for their comfort but also for their safety. Most of the new age cars and SUVs these days come with kits that help the respective car or an SUV to be more pet-friendly. On the other hand, a small adjustment to your vehicle will make your car dog-friendly. In many countries, there are laws that require dogs to be bucked in the seats using a seatbelt just like humans. Changing your car to make it more comfortable for your pets is simple and here are a few tricks you should follow.
Setting up a pet-friendly rear seat:
Rear seats are the safest for young kids and so is it for your pets especially dogs. In case of an accident, dogs can be injured by the deployment of airbags and more over dogs can also be a big distraction for the driver in the front. To avoid your dog from coming to the front, install a special ventilated barrier or a net on either side of the second-row seats of the car. This will prevent your dog or any from jumping into the front of the car preventing distraction that might lead to a crash.
The leather seats of your cars need to be covered with waterproof pet seat covers that will make it easy to clean fur shedding. If your pet is a puppy or small in height then it's always advisable to for the pet to travel in a carrier or a crate, especially for long drives. A crate along with a blanket will keep the pup very comfortable.
If you are buying a new car then look for a car with higher points in crash tests. Most of the new cars are equipped with premium Pet Packs to help their four-legged friends to travel in style. These packs include quilted load spaceliner to protect the floor, rear seat and sidewall from muddy paw prints. Automakers like Land Rover manufacturers these from a soft quilted fabric with an integral rubber mat and detachable bumper protector. It is easy to wipe clean and usually, these are tailored fit as per the make of the car/SUV.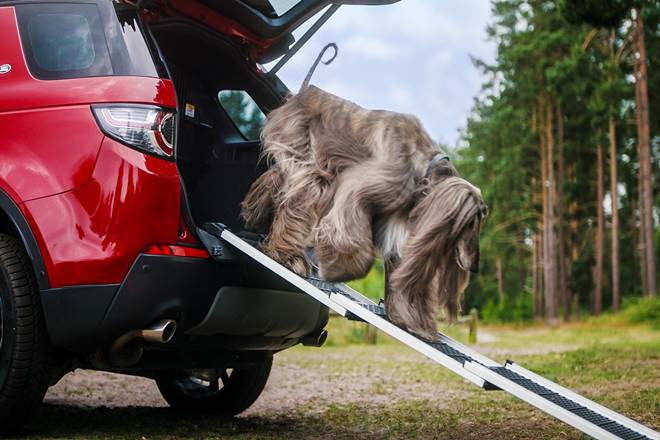 To make the car more accessible to dogs you should also get a foldable pet access ramp which will be a boon for older and smaller dogs to get into the rear load space. It supports of weight up to 85 kgs and is build of aluminium side panels and a plastic centre section with tread pattern for additional grip.
Never ever leave your dog unattended inside the car. Don't let your furry friend hang her head out of the window and also shut the windows while the car is in motion. Engage child-lock on the rear door on and also the power window lock switch so that smart dogs can't access the window. These small steps can ensure your cars and SUVs become dog-friendly your furry friend enjoying rides alongside you.